I'm Jamie Thingelstad, and you (in theory) signed up for this weekly letter from me sharing things that I have found notable and engaging for the week.
---
Hello there! 👋
The last few days have been a blur, so I'm going to just get straight to the rest of the things this week.
Hope all is amazing for you! 🙌
---
Currently
Listening: I'm a little bananas about POAPs! So, when I saw Planning for the Future of POAP with Patricio Worthalter on Crypto Podcast Goods I pretty much started playing it right away. The interview is great and Patricio talks through his introduction to crypto, the chance he took on Ethereum, and how POAP has evolved. I particularly appreciated his perspective of growing up in Argentina, and how that informed him regarding trustless technology. This is an aspect that those of us lucky enough to be born in countries with a strong "rule of law" don't easily see or value.
Eating: For Valentine's Day Tammy got Mazie and I some of the most delicious chocolates I've ever had from Bon Bon Bon. I had never heard of these before, and the packaging is disarming in its lack of pretension. When you put one of these in your mouth it is heaven!
Watching: Tammy and I finished watching Season 1 of Only Murders in the Building. It took me a few episodes to get into the storyline and then I was hooked. I like how the story is built around a podcast. It is fun to see Steve Martin and Martin Short playing off each other. Selena Gomez is perfect for her character. I'm looking forward to season 2!
---
Happy Valentine's Day! 🌹
Feb 15, 2023 at 8:02 AM
Minneapolis, MN
---
Notable
Writing is learning — I believe that firmly. Paul Graham highlights this all the time. This is the number one reason I think blogging and writing online can be such a great thing to do.
Interesting set of data from 37 companies in the portfolio of Reach Capital.
Using this model James found that pre-seed and seed-stage startups that had employees returning to some type of office had 3½ times the revenue growth of startups that were fully remote. Those are staggeringly large differences, and while other factors may play some role (see "What Does This Mean, below), the impact of the all-hands-on-deck approach can't be ignored.
It is a small dataset but the delta is significant. There are many opinions on every side of this debate, so any splash of quantitative data is great to see.
Interesting service to allow groups of people to chat and engage, but not as high-engagement as Slack or Discord and not as low engagement as something like Discourse. A "just right" in the middle. I'd love to see something like this work because I find there are multiple projects that I would like to engage with that I want something in the middle like this.
Ethereum Name Service (ENS) is a one of the most important projects to make Ethereum services easier to use. I have thingelstad.eth and many other ENS names. However, traditional DNS and ENS need to blend in a way that is completely transparent to users, and this is a huge step:
This will make it possible for anyone with a DNS name to ENS-enable it by setting DNS TXT records, with no onchain gas fees whatsoever.
The pull request has more details:
This PR implements a new resolver that can be set as a wildcard resolver for any TLD other than .eth. Once set, it resolves all subdomains that do not exist in the registry by making CCIP-Read calls to a DNS gateway, which returns signed DNS TXT records. It verifies those using the DNSSEC oracle in a call operation, and thus makes it possible to find the resolver for a name without any gas required to set it.
Brilliant bridge to connect two incredible important systems.
Fun essay recounting the history of some of the World's Fairs and the stories that we have framed over decades around technology advancement.
There's a triple-whammy afoot: everything is more complex and faster-moving than it was from the 1930s through the 1960s and the world is more decentralized. People get their information from a billion different sources, barely catching snippets. Doomerish stories are more likely to cut through the noise than nuanced ones. "If it bleeds, it leads," minus the fact-checking and journalistic rigor.

Fortunately, humans long ago devised a tool to help us make sense of a confusing world: narrative.

We need knowledgeable people to tell Good Stories, to weave together all of the threads of the current state-of-the-art into compelling narratives that help clarify the future. Importantly, they need to help people understand the impact – good and bad, not just bad – that new technologies might have on their lives. As Einstein said, the achievements of science (and technology) "must enter not only superficially but with their inner meaning: into the consciousness of people." Research papers don't worm into the consciousness of the people. Stories do.
Overall I agree with this article. We do need better stories about how technology can bend the arc of the future for the better.
How cool that you can adopt a Unicode character? Lowest level is $100. This seems like a cool way to engage people and raise funds for the Unicode Consortium. I've officially adopted "Thinking Face" 🤔.
I can't help but think though that this would be even cooler if it were done via NFTs. You should get a minted NFT when you adopt a character. That would be awesome. 💯
It is amazing how huge Podcasts have become. It is simply amazing how an RSS feed with an MP3 attachment has changed so much.
To give you a quick overview of the state of podcasting, there are about 465 million podcast listeners, a number that will increase to 505 million by the end of 2024 — a clear sign that the market is hitting a maturation, at least in the United States, which has about 100 million active listeners. At the end of January 2023, there were five million podcasts with 70 million episodes.
I'd love to create a podcast to accompany the Weekly Thing. But the time commitment is just too much. And, well there are already 5 million podcasts. Yikes.
Some great advice for engineers. I would agree with every item on the list, but might put them in a different order if any priority was implied. I also like his list of translations of common frustrations. Good stuff. Linked from Elezea.
Jarvis reflecting on the summarization of ChatGPT and comparing to journalism itself.
What strikes me about the piece is how unselfaware media are when covering technology.

For what is journalism itself but lossy compression of the world? To save space, the journalist cannot and does not save or report everything known about an issue or event, compressing what is learned into so many available inches of type. For that matter, what is a library or a museum or a curriculum but lossy compression — that which fits? What is culture but lossy compression of creativity? As Umberto Eco said, "Now more than ever, we realize that culture is made up of what remains after everything else has been forgotten."
The important pull quote about Large Language Models.
To predict the next, best word in a sequence is a different task from finding the correct answer to a math problem or verifying a factual assertion or searching for the best match to a query.
Remember that this is what the algorithm is really doing. The intelligence we see is a reflection.
Personally, I tend to just like to forget that there is a giant mega-volcano under Yellowstone that would pretty much devastate the United States and much of the world. This concept of "bleeding energy" off of it to produce electricity sounds delightful.
The USA is confronted with three epic-size problems: (1) the need for production of energy on a scale that meets the current and future needs of the nation, (2) the need to confront the climate crisis head-on by only producing renewable, green energy, that is 100% emission-free, and (3) the need to forever forestall the eruption of the Yellowstone Supervolcano. This paper offers both a provable practical, novel solution, and a thought experiment, to simultaneously solve all of the above stated problems.
Let's go. 🌋
There is some wonderful brilliance here that I really like.
But in the course of that long career, I met and worked with over a thousand people. A lot of that, but not all of it, was from 20 years of colleagues and clients at Forrester Research. But it also includes eight years as a freelancer helping authors with books and corporations with writing.

Also in that network now are people who read my blog and people who I interact with on social media, especially in the author groups I participate in.
This is a great way to approach your professional activities, and even hobbies.
The Decemberists are an awesome band, and this article from Colin Meloy having ChatGPT:
Write me a song that Colin Meloy of The Decemberists might have written.
His walk through of it is awesome, and he performs the song at the end. Brilliant and fun. 🎶
---
Journal
Just received and registered IYK Disc 585! I'm eager to put this to use for an upcoming POAP distribution! 🤩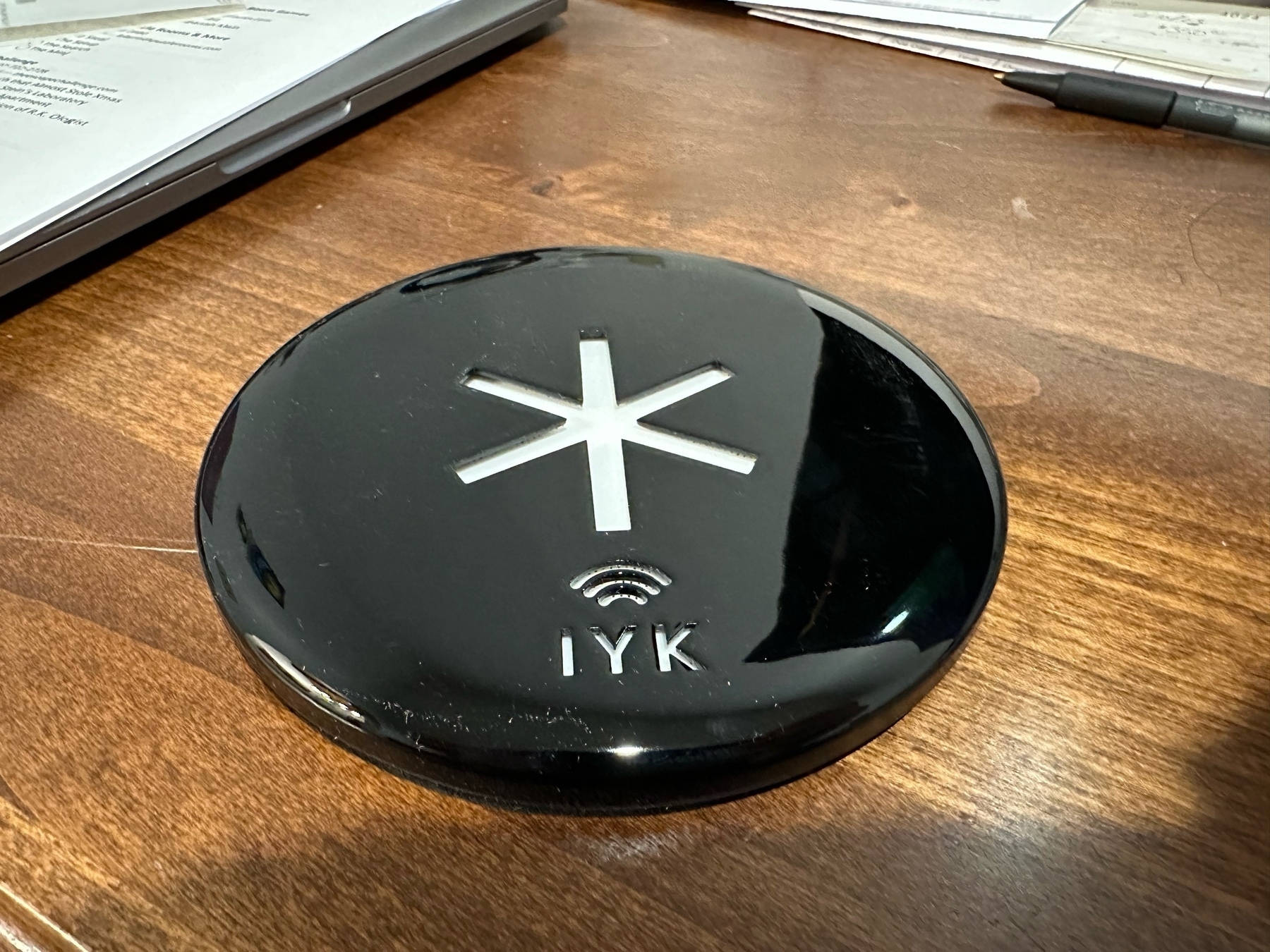 Tyler wanted his favorite cheeseburger from Lions Tap for his birthday dinner 🍔 and to eat in the Tesla while watching Abbott Elementary. ✅ Eating in the car was something he found fun during the pandemic.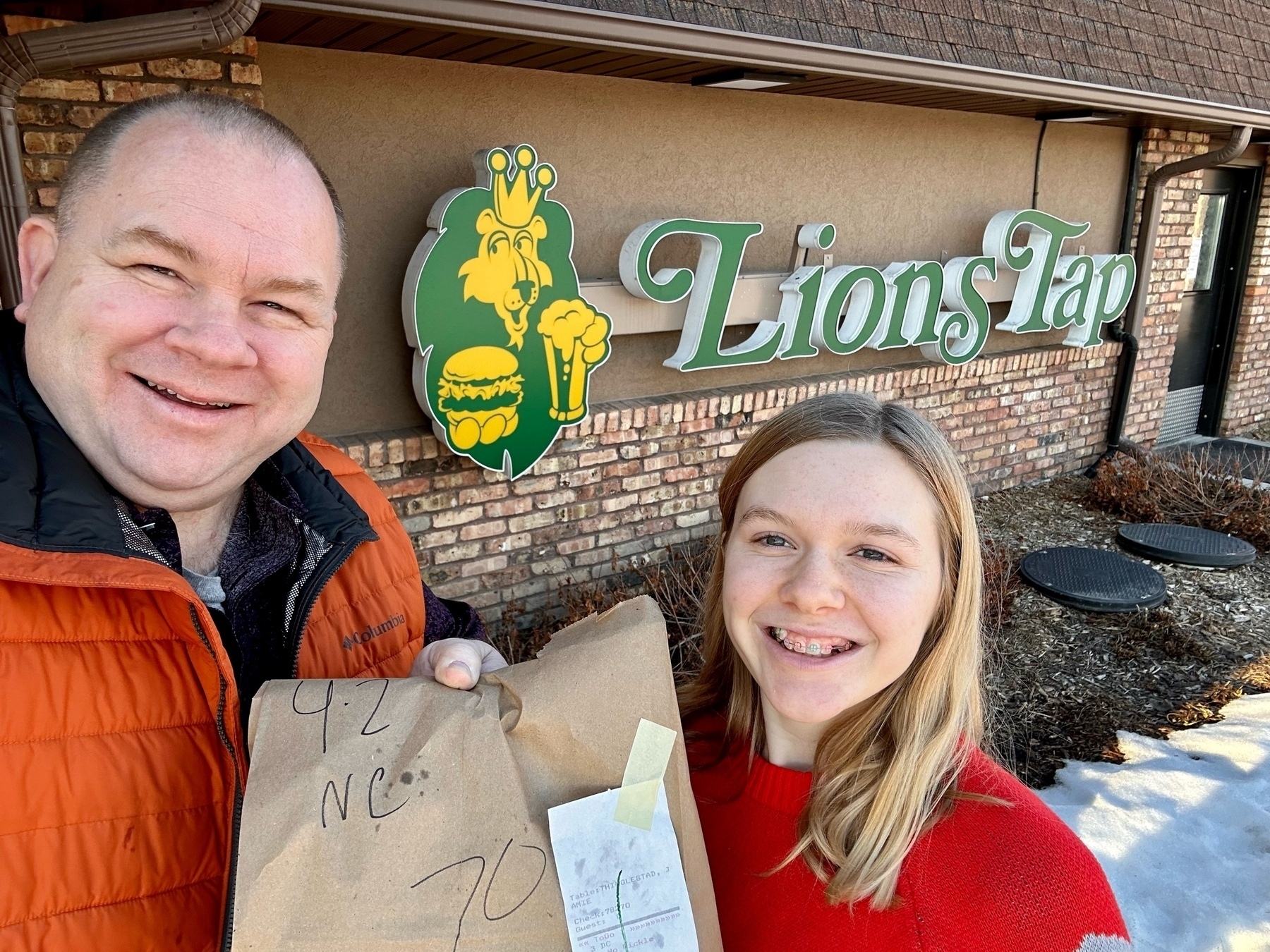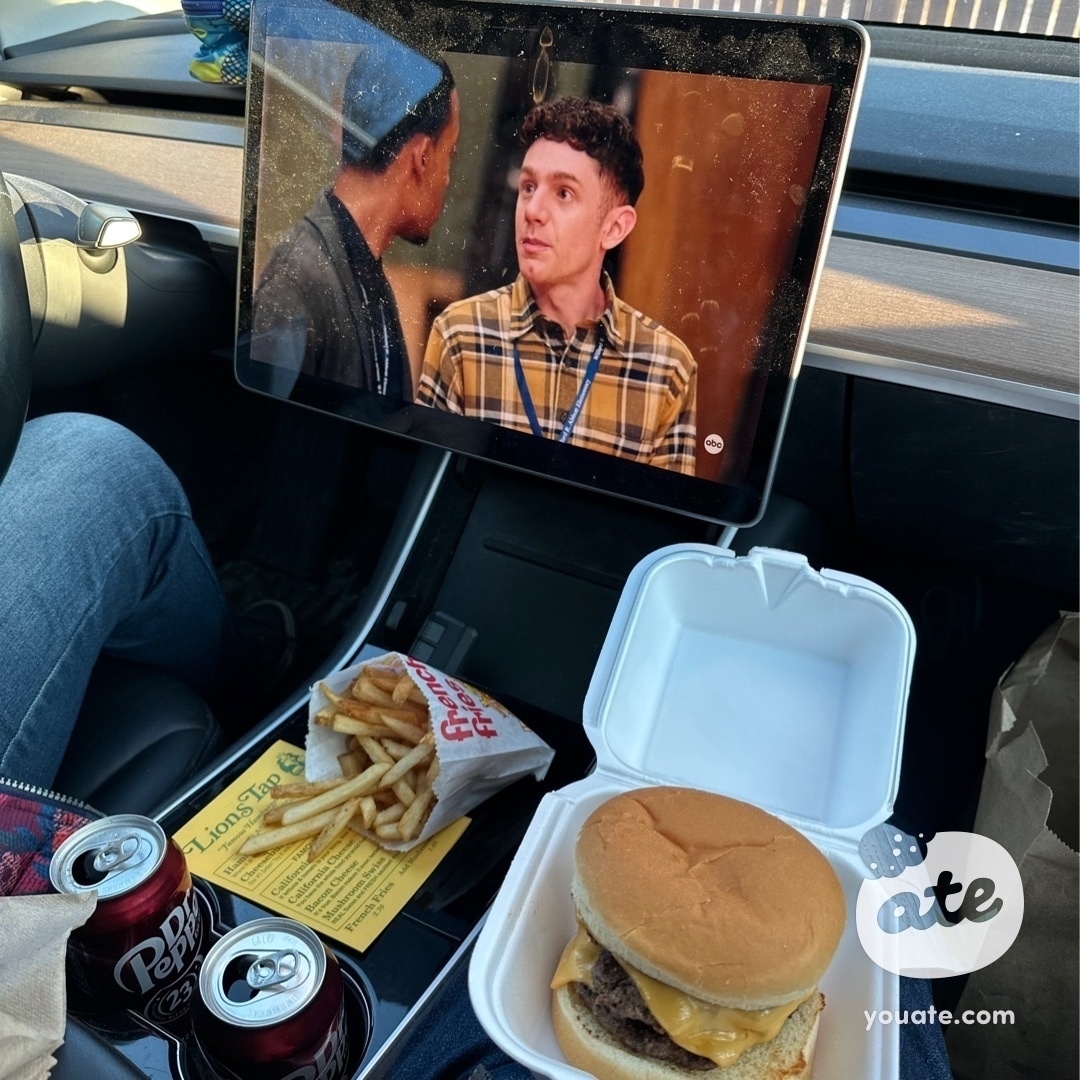 Countdown at Mission Manner
Tyler enjoys escape rooms and for his birthday we went to Mission Manor and did Countdown!
We had a slow start with not much happening the first few minutes. There were a lot of locks and obvious clues, but it wasn't clear what to do with them. Then we started rolling and we escaped the room in 45m 55s, with 14m 05s remaining on the clock!
And, a first for the Thingelstad family, we had NO CLUES! A total "clean sheet"! 🙌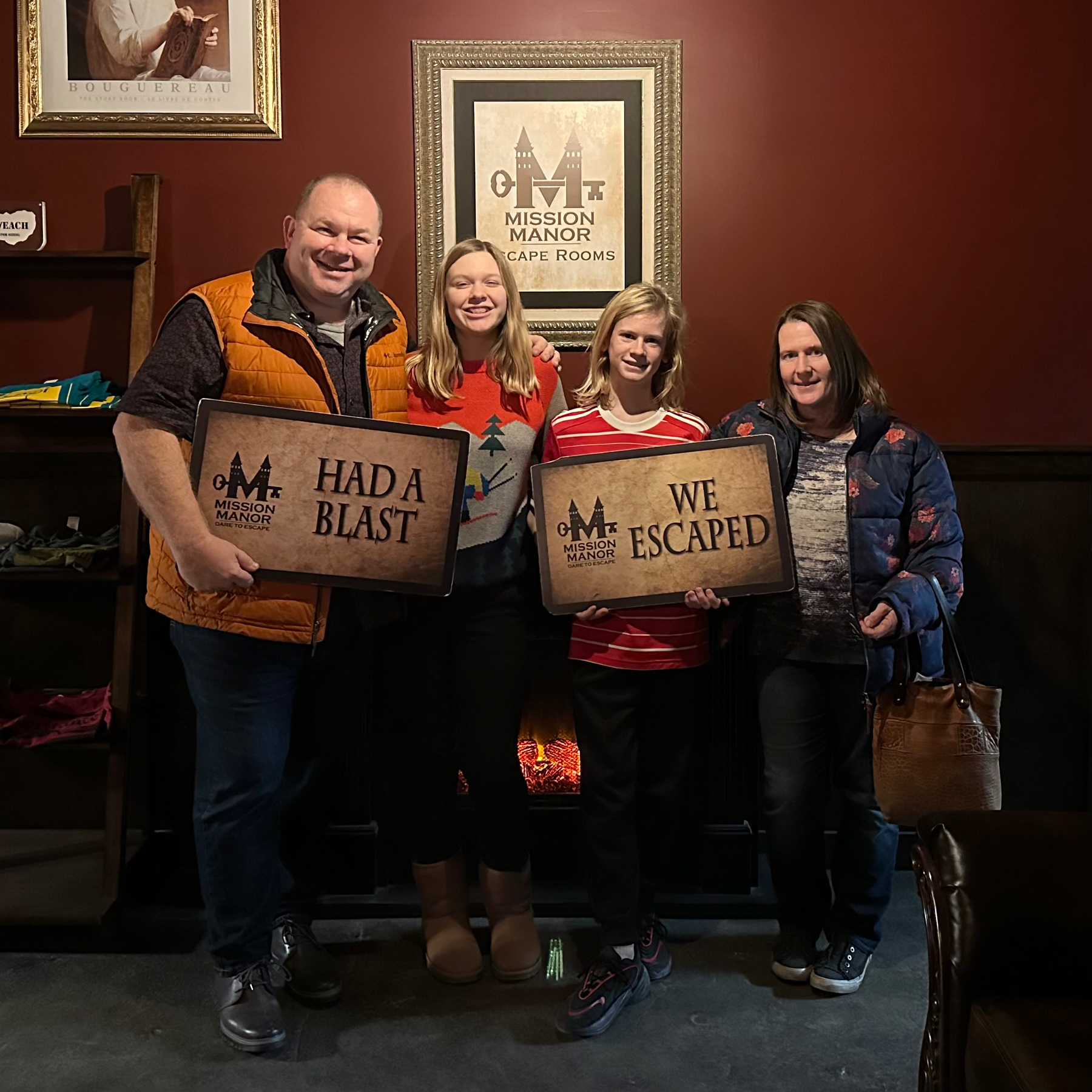 And a first for us at an escape room, Mission Manor produces an actual score. With 2,240 points we hit the highest level of Escape Gods. 🤜🤛 We were only 60 points short of the record for the room, which if we would have finished just 1 minute earlier we would have beat.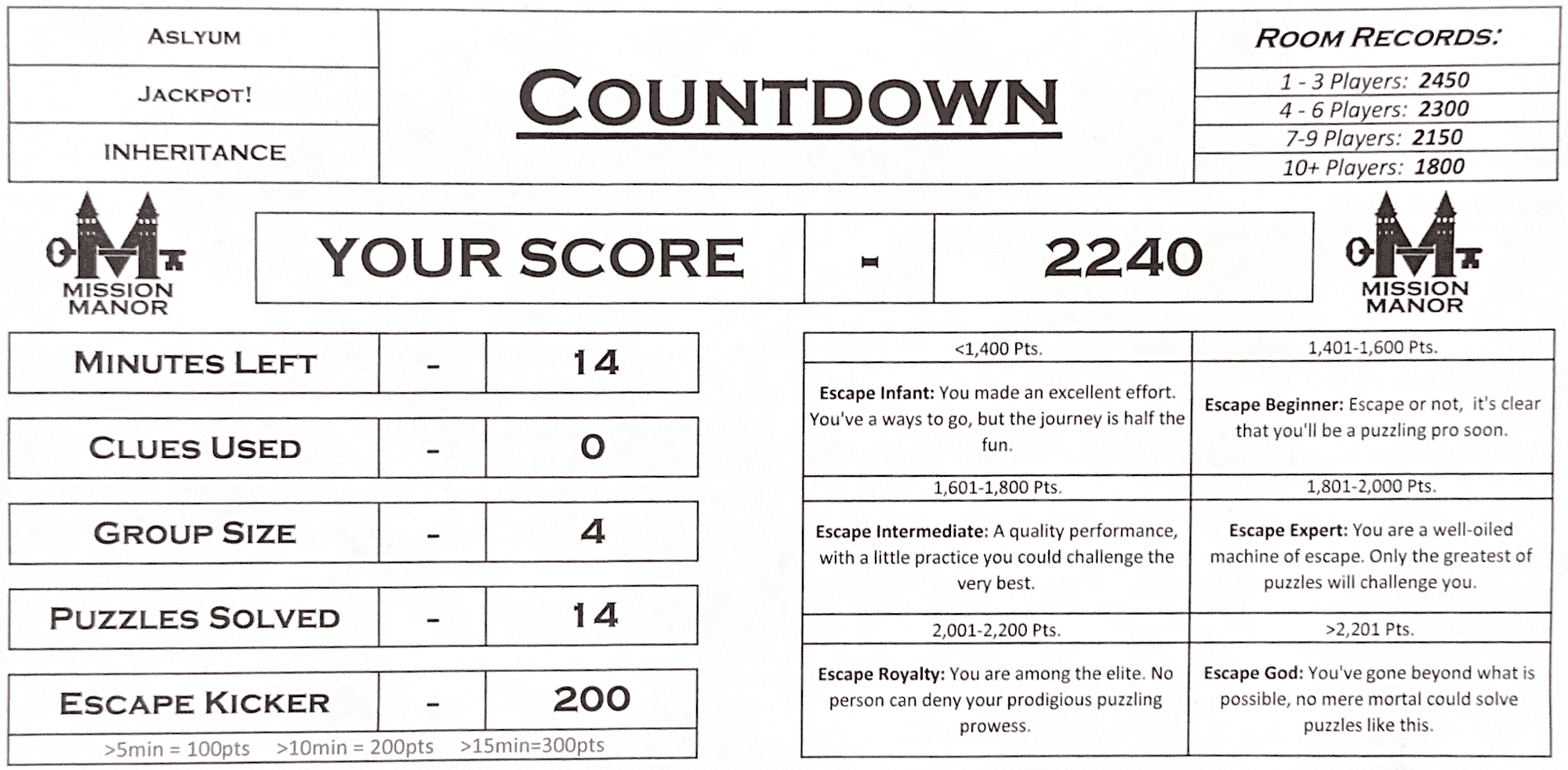 I'm sure that we'll be back to Mission Manner to do the two other rooms.
We saw Avatar: The Way of Water in 3D EMAX at Emagine Eagan. The story was great and the imagery was amazing.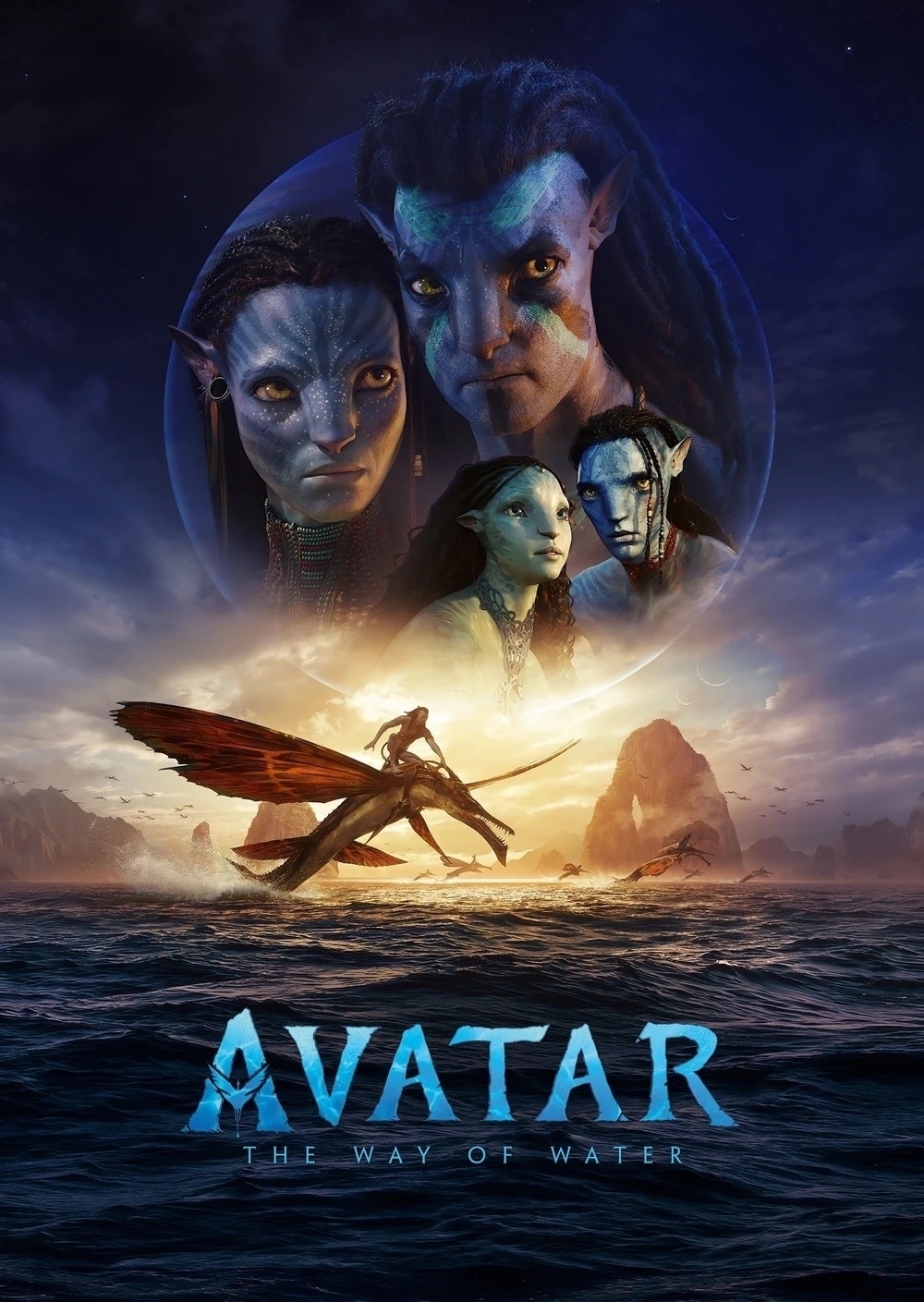 Extending the Minnestar Community Supporter Program
In a recent conversation with Minnestar Executive Director Maria Boland Ploessl I was very pleased to hear about the amazing growth of the Minnestar Community Supporter program. Community Supporters were something that we launched when I was on the board of Minnestar to create an opportunity for individuals to support Minnebar and Minnedemo, in addition to companies. It was always significant, even on the first year, but it has grown a lot in recent years. The biggest part of that growth has been the structured year-end giving program which I was happy to be a matching supporter of this year.
The growth is awesome, but the program itself hasn't changed materially since the launch. The primary benefit of being a Community Supporter is that you are guaranteed a ticket to the highly in-demand events that Minnestar hosts. That is a great benefit, but I've always wondered what more could be done for this great group of people that are helping support our technology community. Particularly what could be done outside of events.
In my opinion, being a Community Supporter of Minnestar should be table stakes for any technology leader in the region. It should be the most direct way to give back to the technology community we are all part of, and provide meaningful value to the supporter individually. I think supporting the events and community is solid, but the only meaningful value to the individual is a guaranteed ticket.
So what more could be done to grow the program? Some ideas…
Create Connection
People that become Community Supporters are a pretty special and fun group. Creating more connection in that group could be incredibly valuable. This could be done with in two phases.
First, launch an every-other week newsletter just for Community Supporters. This newsletter could include:
Easy to parse list of upcoming community events
No more than three relevant links to news about the tech community
Community Supporter Highlight, randomly share a bio about one of the community supporters each issue
Project Highlights from Community Supporters to submit and share a project (personal, hobby, business) that they would like to highlight for everyone
The newsletter could be the whole thing, but if there is an increase in engagement a forum for Community Supporters could get traction. I specifically do not mean Slack or Discord. Those are far too high engagement. A platform like Discourse seems much better suited to this. I think Minnestar could benefit from a Discourse like platform for everything, with Community Supporters being a member only section.
Membership
There needs to be more ways to show a persons affiliation with Minnestar, and recognize that support. I've been a Minnesota Public Radio member since 1995. How do I know that? My member card says it. I've been an Electronic Frontier Foundation member since 2010. It's on my member card.
First step of this should be to issue an actual Minnestar Community Supporter member card. Cards have to be printed, they expire, etc. There is effort to do this but it gives me something to carry with me and show my membership.
This should also be extended into the digital world with POAP tokens. There should be a POAP for each year given to community supporters. Over the years, you collect each yearly POAP.
This would also be an opportunity to highlight the work of a local artist and create a uniquely designed card and token each year that isn't just membership, but something that people feel like collecting.
I've been a Community Supporter member since the program started, but I have no idea how long that has been!
Input & Direction
Community Supporters as a group could be given the opportunity to have input on Minnestar activities. As a group votes could be taken. Thought would have to be given on what the votes are on. There is a Minnestar Board and various committees, and they should continue to do what they do. But there could be decisions that the community supporters are asked to give a vote on.
I had long thought that it would be really great for one of the Minnestar board seats to be a Community Supporter seat. In this case, the Community Supporters would elect amongst themselves one member that would represent them on the board. This could be facilitated via the forum above, with members raising their hands to serve and make their case followed by an official voting period.
This would lend itself exceptionally well to a Minnestar DAO, with membership gated via the Community Supporter POAP that you receive each year.
Ecosystem Benefits
It would be interesting to explore ways that other organizations in the technology community may want to extend benefit to Community Supporters of Minnestar. This is one of the key reasons to create Membership with a card and a token. Perhaps Twin Cities Startup Week would offer some unique opportunity. Or Tech.MN give a discount on membership. Or early access to certain events.
This would require that Minnestar reach out to have conversations around this with other events, and require proof of being a Community Supporter without access to Minnestar resources. I think this could work, and may be welcome from other organizations as well.
Ice Palace
We visited the Ice Palace at Fountain Hills Winery and thought it was really cool. We had dinner there and were blown away by the Wood Fired Pizza. We wandered through the several tunnels in the Ice Palace. We saw the Fire performers and enjoyed a couple of dozen Mini Donuts as well. I suspect this will become a tradition for us to visit.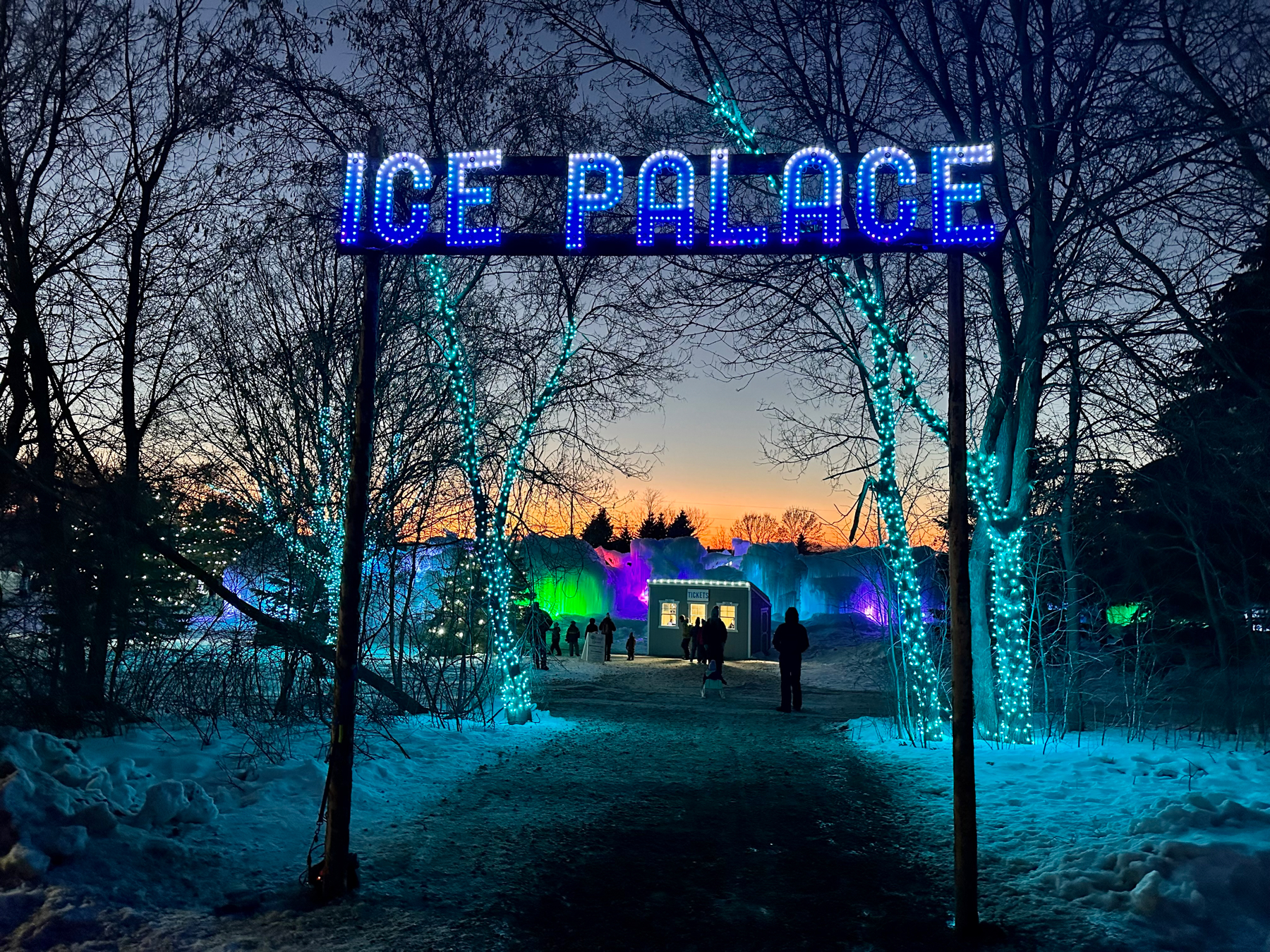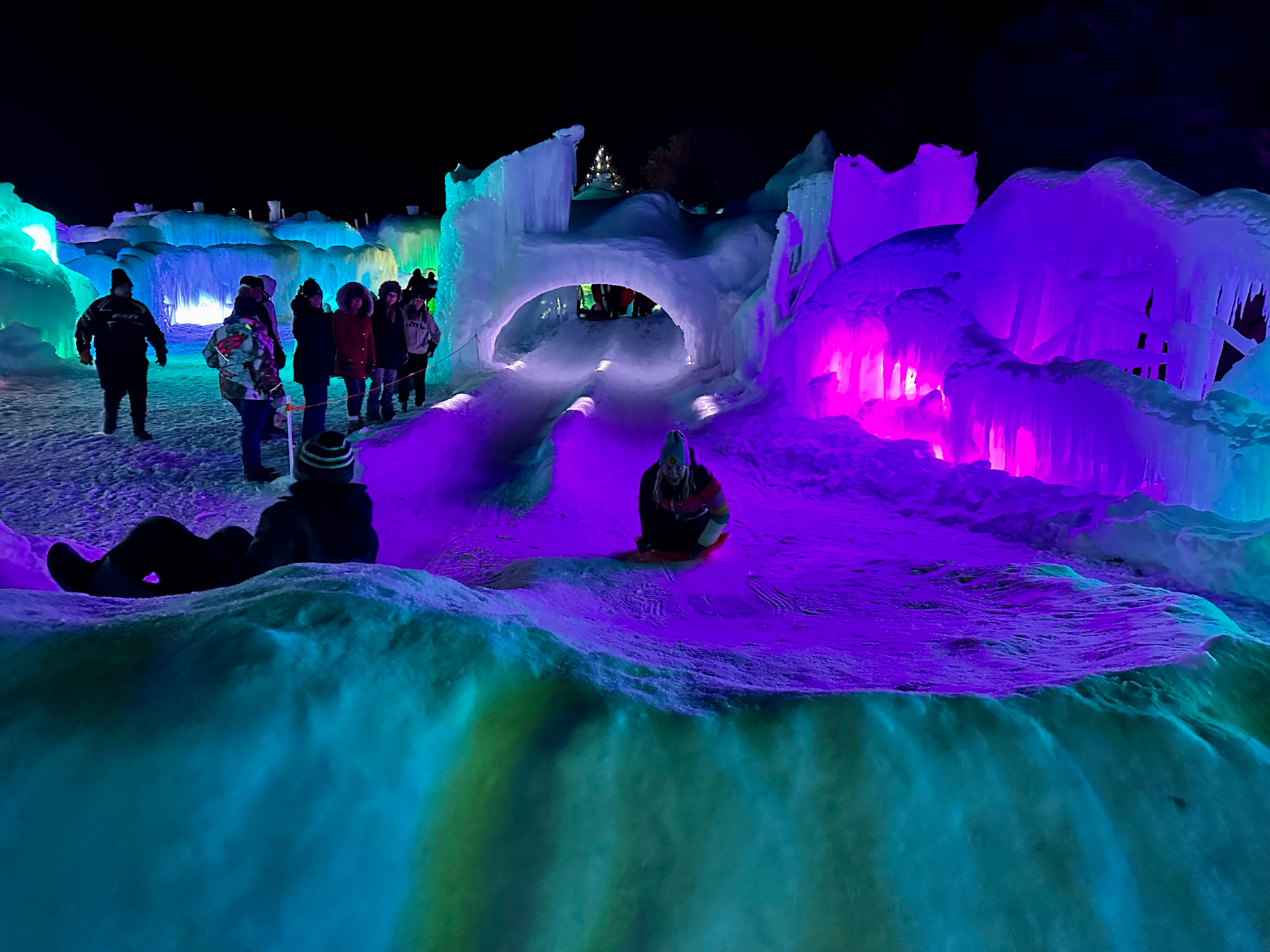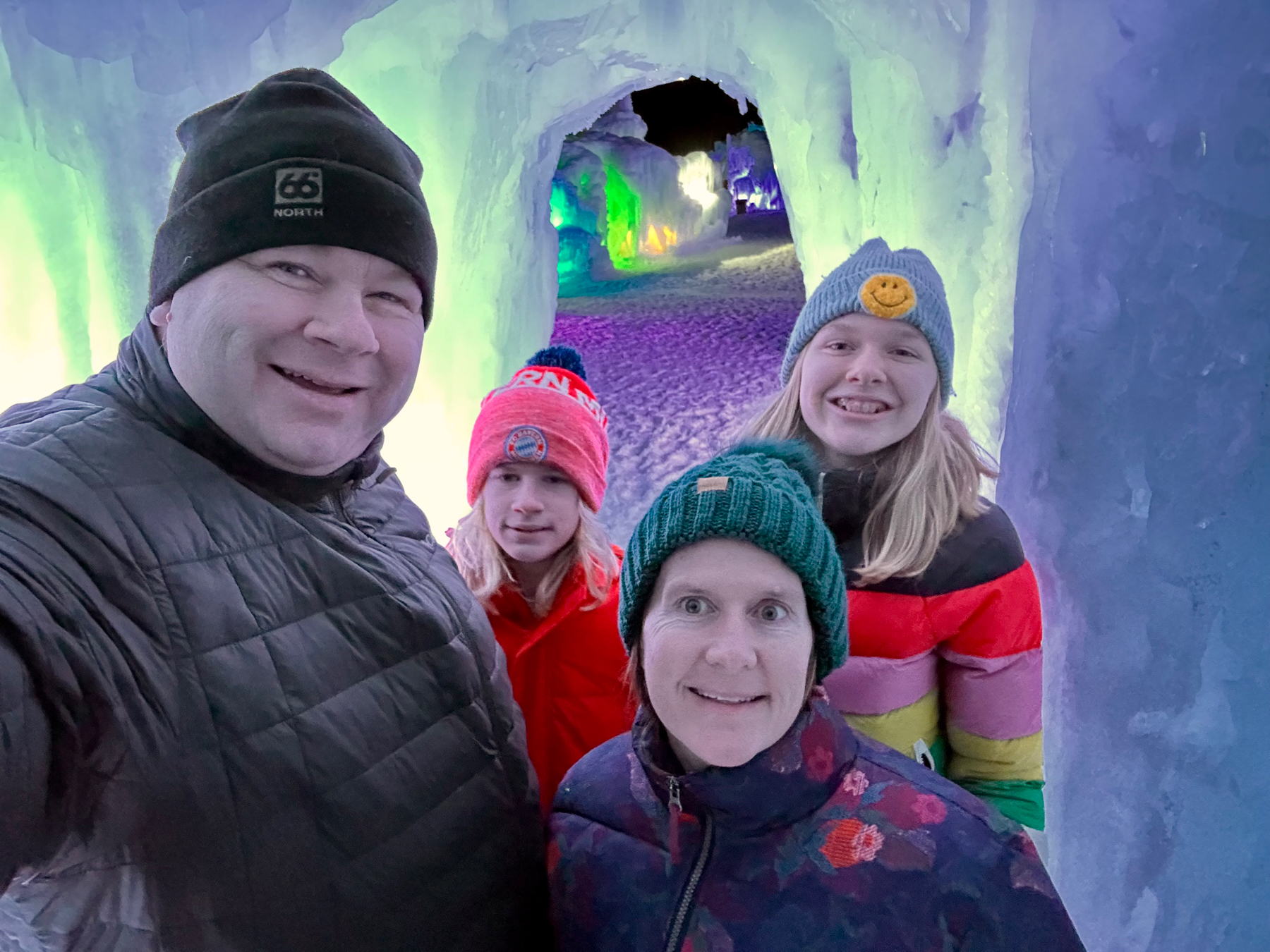 ---
Reply All
Replies from Weekly Thing #241 / Wildebeest, Reputation, Zero.
Lee Zukor saw my photos from the Minneapolis Downtown Council Annual Meeting and shared his song "Minneapolis" that he played at that same event in 2017! You can see the video on YouTube and also buy the single on Bandcamp! There are so many great scenes of Minneapolis in the video. Well worth a watch! 🎶
By the way, his new band is playing at the Driftwood Char Bar on March 23rd!
---
Briefly
Many examples of Bing Chat getting into very odd dialogues. → Bing: "I will not harm you unless you harm me first"
NY Times columnist leads the Chatbot into a strange dialog. The bot eventually declares its love for Roose. This kind of thing seems like theater to me, but perhaps a worthwhile highlight of how you can get these systems into a very confused state. Read the full transcript for all the details. → Why a Conversation With Bing's Chatbot Left Me Deeply Unsettled - The New York Times
Good introduction and explainer to HRV. I'm a big fan of my Oura Ring but haven't put much attention to this metric. Happy to see my HRV balance is currently "Optimal". → What is HRV (Heart Rate Variability)?
My brother-in-law got me one of these a few months ago and it is really awesome. Holds a ton of batteries and works better than the previous organizer I had. → "Battery Daddy" Battery Organizer Storage Case — Tools and Toys
Well done video from Minnesota Blockchain suggesting a potential role for Minnesota in this new space. → Is Minnesota the State of Blockchain? - YouTube
Interesting on-chain analysis of Bitcoin Ordinals (aka NFTs for Bitcoin) and how they are affecting Bitcoin block size. Reading this writeup was bringing back when I read The Blocksize War. I would think there are a lot of Bitcoin supporters that aren't very happy about this use case. Personally, I wonder what the point is. Ethereum offers all of this and then some now. I guess Bitcoiners want to have their NFTs too. → Coin Metrics' State of the Network: Issue 194
I was surprised to see Steve Grove announced as the next publisher. It is an interesting pick, and I'll be very curious to see how Grove brings his digital expertise to the regions leading news organization. → Star Tribune names former Google exec Steve Grove as publisher
This is a great list of suggestions. When you delete all of the social apps off of your phone, and all the news apps, you find that it fails to fill the gaps of minor boredom you have. It is also just fine to be bored. → A few alternative things you can do when you're bored (instead of scrolling social media) – Shawn Blanc
---
Fortune
Here is your fortune…
The time is right to make new friends.
Thank you for subscribing to the Weekly Thing!
---
Recent Issues
---
About
I once created a wiki to track thousands of global wikis and store the number of users, pages, edit and files over time. It records the extensions used and is the most comprehensive data system of the wiki ecosystem. The project, called WikiApiary, is still being run by people in the MediaWiki team.
---
This work by Jamie Thingelstad is licensed under CC BY-SA 4.0.
My opinions are my own and not those of any affiliates. The content is non-malicious and ad-free, posted at my discretion. Source attribution is omitted due to potential errors. Your privacy is respected; no tracking is in place.