I'm Jamie Thingelstad. You're getting this email because you signed up for the Weekly Thing. I appreciate you being here, but if you don't want these emails any longer, simply unsubscribe.
---
Hello! 👋
Many years ago I told each our kids that when they turned 13 I would take them to New York. Mazie and I went in 2018 (see Weekly Thing 75!), and Tyler and I went this last weekend. ✈️
One of the highlights of the trip is going to Ellis Island to look up my Great Grandfather Josef Gins, who came to America on July 25, 1909 at the age of 15 alone with $40 in his pocket. He went on to Chicago, and then to the Dakotas. My middle name is Josef after him, as is Tyler's. It is really incredible to connect back to events like that.
It was a great trip with many memories made. Many photos below. 📷
---
"All we have is our attention in the end and we just have to notice what these various tools are doing to it. It became very clear to me that [Twitter] was an unrewarding use of my attention."
"Our life is dolled out to us in moments. We are continually solving this riddle of what is going to suffice to make this moment engaging and meaningful and aligned with who I want to be now and how I want the future to look. We have this tension between being in the present and becoming in the future."
— Sam Harris on Lex Fridman Podcast (4h 1m)
---
Currently
Watching: Tammy and I had a great time watching Bono & The Edge: A Sort of Homecoming, with Dave Letterman on Disney Plus. Letterman is still a great host, and you can't go wrong with Bono and The Edge. The narrative was partly told through Letterman's introduction to Ireland.
Listening: My friend Dennys and I were comparing notes on podcasts we listen to and he strongly urged me to give Lex Fridman Podcast a try. It just so happened that the most recent episode was a four hour interview with Sam Harris that I mostly enjoyed. I then jumped to his episode with Guido van Rossum on Python and the Future of Programming and thoroughly enjoyed that. Guido is awesome. Next up is the interviw with MrBeast on the Future of YouTube, Twitter, TikTok, and Instagram.
---
View of downtown Manhattan from Ellis Island.
Mar 18, 2023 at 12:34 PM
Ellis Island, New York
---
Notable
This plugin model for ChatGPT seems like a big deal. I wonder what the interfaces look like to develop these. It seems like an obvious way to extend ChatGPT's capabilities into a very wide variety of areas. The demo video is pretty impressive.
I've known about fingerprinting browsers for a while, but I wasn't aware of how effective it was.
But companies found another way to uniquely identify you across different sessions and websites without using cookies or other persistent storage. It's called web fingerprinting. Fingerprinting is a more sophisticated approach to identify a user among millions of others. It works by studying your web browser and hardware configuration. Many websites use a fingerprinting library to generate a unique ID. This library collects data from multiple JavaScript APIs offered by your web browser. For example, websites can see web browser version, number of CPUs on your device, screen size, number of touchpoints, video/audio codecs, operating system and many other details that you would not want a typical news website to see.

All of these values are combined to generate a unique ID. Surprisingly, each user's device and browser specifications differ so much that they get a unique ID among millions.
I tried this myself and it matched me even with 1Blocker, clearing cookies, and using private browsing windows. The author was only able to defeat fingerprinting in Firefox after specifically enabling it with "privacy.resistFingerprinting = true".
Fingerprinting is particularly difficult since the only way to fight it is for the browser itself to do it. You cannot work around it any other way.
It is amazing how hard we have to work to maintain any privacy online.
Little Snitch is a great tool that allows you to control the network connections that all software on your Mac uses, and importantly block them. However, it has always been incredibly complicated and difficult to use. Just too many options, even for someone like me. 🛡️
This new "Mini" version looks fabulous! Running a browser extension like 1Blocker is great, but Little Snitch Mini gives you the same power in all of the software on your computer. 💪
Bill Gates commenting on his experiences with OpenAI, and some of the opportunities that he sees for AI to have a huge impact on the world. A number of really cool ideas. This one made me smile when I read it because it would be incredible to have such an omnipresent "resource" available in a company!
Company-wide agents will empower employees in new ways. An agent that understands a particular company will be available for its employees to consult directly and should be part of every meeting so it can answer questions. It can be told to be passive or encouraged to speak up if it has some insight. It will need access to the sales, support, finance, product schedules, and text related to the company. It should read news related to the industry the company is in. I believe that the result will be that employees will become more productive.
So much potential, even without us getting to some level of Artificial General Intelligence. Just the tech that we have right now could power so much innovation.
The use case I'm looking at first is anything that requires the assimilation of some reasonable corpus of information, reading a dozen PDFs for example, and then summarizing the information. This is a straightforward use case. I've used DEVONthink for years for projects like this. Think of an M&A project with hundreds of PDFs and other resources. It is one thing to be able to load that into a tool like DEVON to search, but a different ballgame entirely to have an AI "read" it all and summarize and answer questions.
PS: It is wild to me that even in hindsight Gates doesn't list the web as something that was revolutionary. 🤷‍♂️
After 25 years online, Amazon is shutting down DPReview. As Om shows, the traffic is down but it sucks to see such large resources like this just get shut off. Especially when owned by Amazon!
The saddest part of the shutdown is Amazon's decision to keep the site in "read-only mode for a limited period" after the shutdown on April 10th. That is a shame considering how valuable a resource has been for the internet from the beginning. It is even more disappointing because Amazon is the largest cloud provider in the world, and letting this live on wouldn't even cost them a damn thing.
See the announcement.
Gruber on the rapid development and improvement of fake voice technology. The examples in this Twitter thread are incredible. The audio is spot on for Steve Jobs. There is even one where Jobs voice answers in Spanish.
Real recordings will be called fake and fake recordings will be leaked as purportedly real. I don't think the general population is prepared for this, and I worry that news media organizations aren't either.
I'm not sure how we are going to adapt to a world where AI can generate written text, audio, or video of anyone that has a sufficient library of content online that sounds and looks exactly like them.
We need digital signatures fast! I'm already considering how I can embed a signature into the Weekly Thing to assert that I wrote the content, and it wasn't generated by a bot.
Newest model from OpenAI.
GPT-4 is a large multimodal model (accepting image and text inputs, emitting text outputs) that, while less capable than humans in many real-world scenarios, exhibits human-level performance on various professional and academic benchmarks.
I have this in my ChatGPT+ account and it does produce more reliable outputs in my limited testing.
Entertainment has changed so much. The words and definitions don't even make much sense anymore.
What is MrBeast and his hundred million subscribers in this - is he a star, a show, a showrunner or a network? 'Yes'. He's certainly a company, with a ten-person thumbnail team. And a few back-of-an-envelope calculations suggest that his output gets at least as much viewing as a top-tier Netflix show.
🤔
The EFF is defending the Internet Archive in a lawsuit against their Controlled Digital Lending program. This program allows the Internet Archive to operate as a library. You can also see the statement from Brewster Kahle the founder of the Internet Archive, as well as statement from Larry Lessig the founder of Creative Commons.
The particular fight in this lawsuit is important; the general fight is critical: Is the past that we have access to just the past that continues to pay? Or is the past we can have reliable access to the past that libraries strive to make available — not for profit, but for the love of culture and for the truth that that access to all of culture continues to assure.
The intersection of free culture and digital rights is particularly difficult, and I'm very happy to see organizations like the EFF and Internet Archive defending these rights. Donate to the Internet Archive and Donate to the EFF.
Godin wishing for a web that was not so full of "junk".
Adblockers are one of the most popular innovations of the last few years. What I want is a junkblocker. A big button on my browser that says "shields up."
Funny enough, this is a potential use case for some agent software. Do we end up with an Internet so full of garbage, fake content, and tracking that the humans that have the means simply never go onto it, and instead rely on intelligent agent software to venture out into this apocalyptic digital wasteland and do what they want done?
Maybe. Could be a fun short film.
If you host your own email, and use it for things beyond just personal email, it is critical that you configure everything just right for deliverability. Since I send the Weekly Thing from thingelstad.com, I need to keep an eye on things and I've used the free version of Postmark's DMARC Monitoring for a long time. Cloudflare's new offering to do the same is impressive, and brings more data and trends. The writeup on how they built it is interesting too.
---
Journal
I'm digging these Women Cryptologists of World War II Stamps.
During World War II, some 11,000 women labored day and night, helping to process and decipher an endless stream of enemy military messages. Their work was by turns frustrating and exhilarating—and one of the conflict's best-kept secrets. With this stamp, the U.S. Postal Service honors all of the women cryptologists of World War II, whose service played an inestimable role in the Allied victory.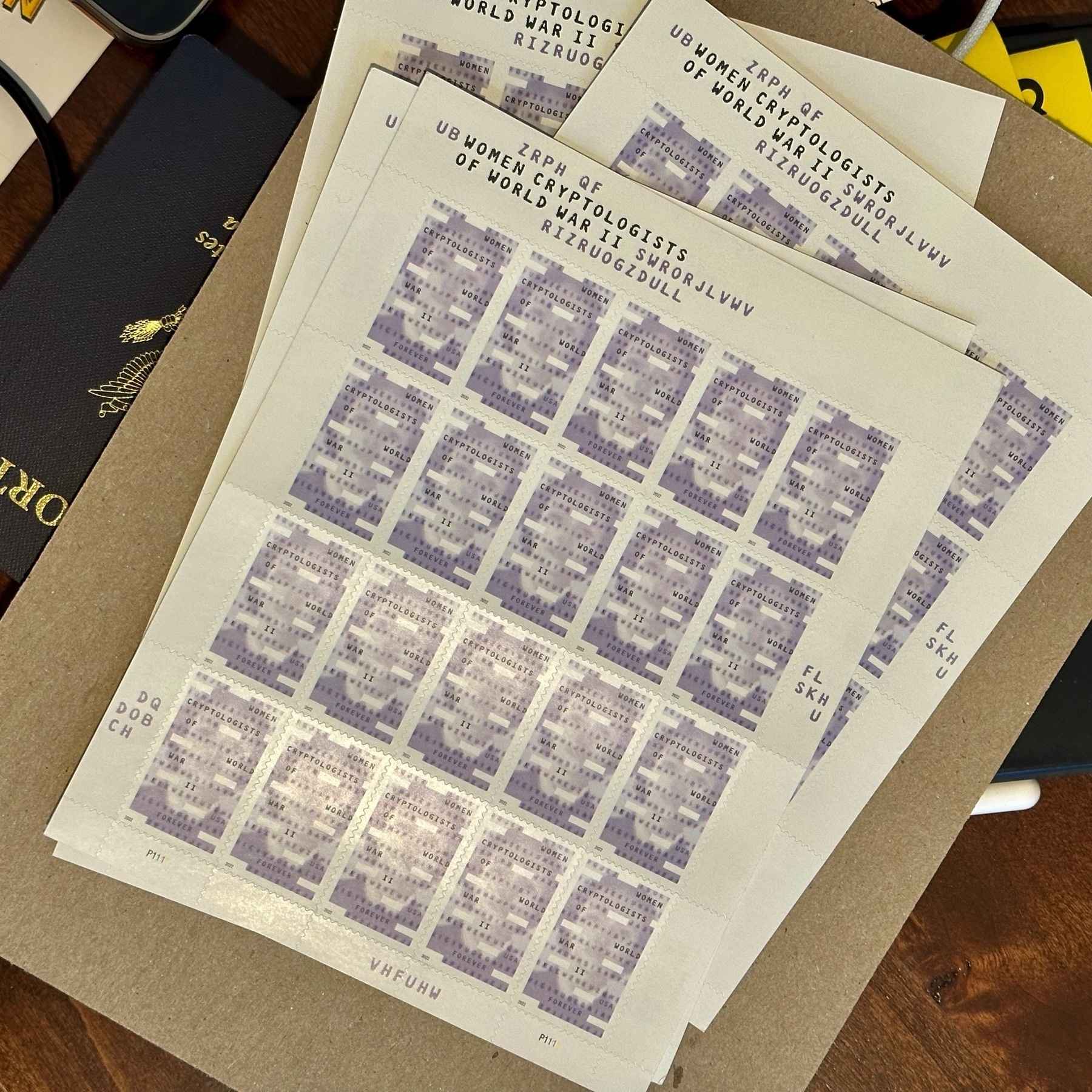 Our 2022 Family Yearbook has arrived! This is the fifteenth book that Tammy has created. Everyone treasures them. 💗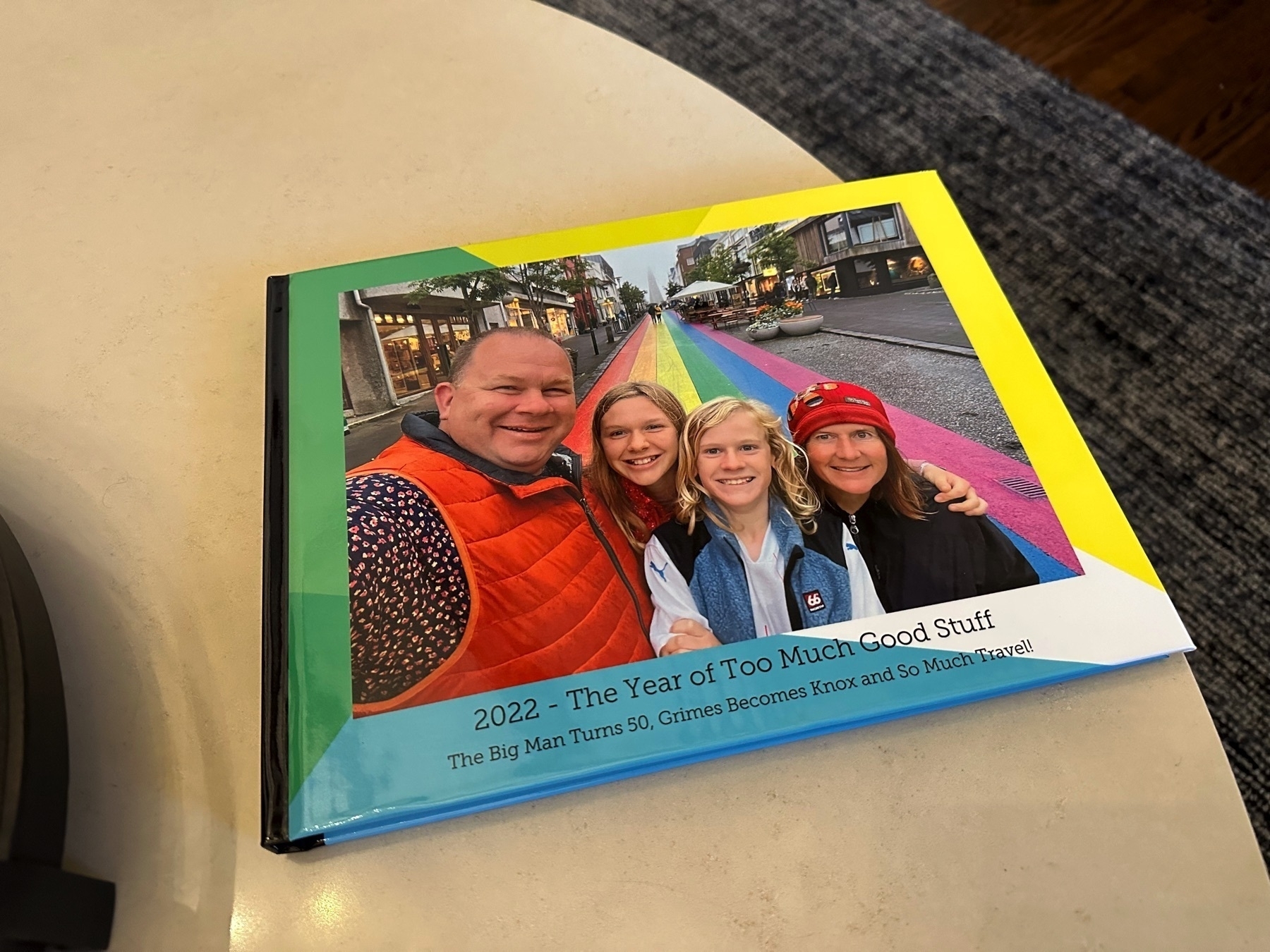 New York 2023 - Day 3
Partial day: 10,069 steps. 4.6 miles.
Pack bags and checkout of Arlo Midtown.
Breakfast at Andrews NYC.
Walk the Highline.
Attempted Milk Bar but location was closed.
Cab back to Arlo Midtown to get bags.
Walk to Angelo's Paris to get macarons to bring home.
Cab from Angelo's to LGA Terminal C
Pizza for lunch at Sunday Supper.
On time departure on DL1529 to Minneapolis.
We finished our weekend in New York with a walk down the High Line. This is one of my favorite experiences in NYC.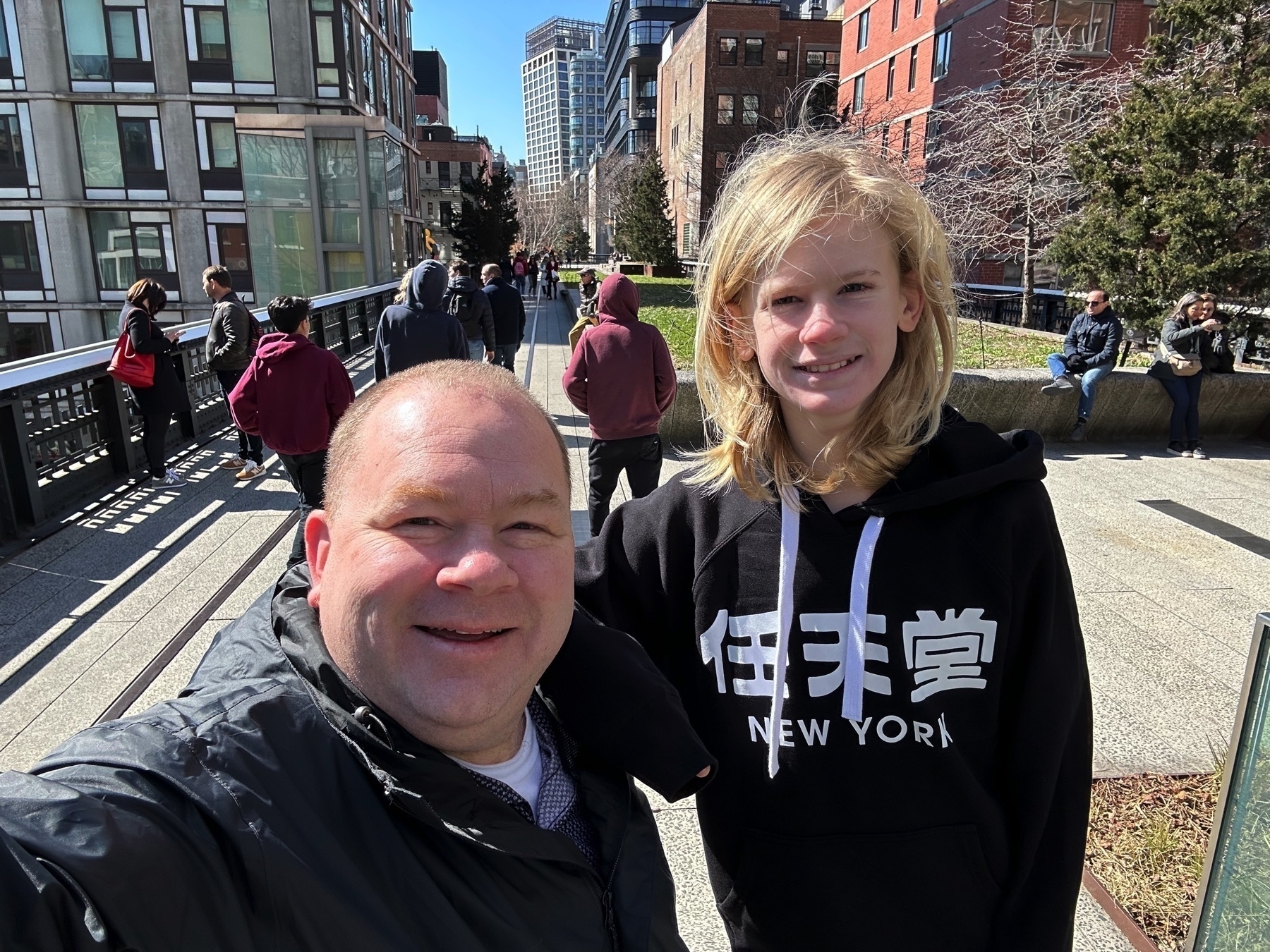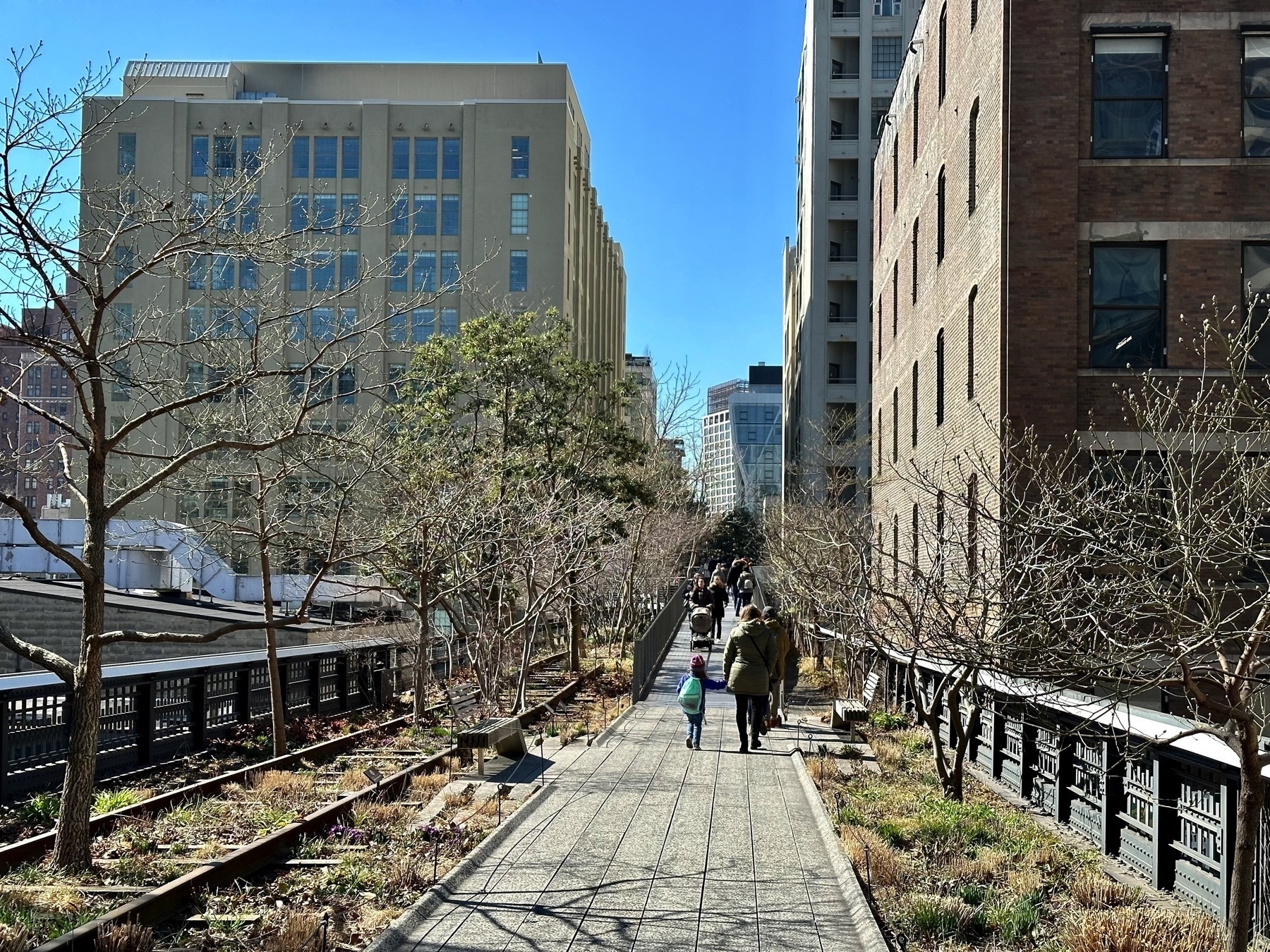 New York 2023 - Day 2
21,964 steps. 11.48 miles.
Andrew's NYC for breakfast but too busy.
Paris Baguette for mochi donut.
Angelina for absolutly perfect macarons. Wow.
Blue Bottle for cappuccino.
Blocked by NYC Half-Marathon.
Take R train to 57th Street.
Nintendo Store for tons of shopping.
Apple Store on 5th Avenue.
Walked along Central Park
Southbound Q train to 28th Street.
Milk Bar flagship store for Birthday Cake, Cereal Milk soft serve, and Confetti Cookie.
Cab to Arlo Midtown.
Walk to meet up with Hadar & Lois.
Fabulous dinner with Hadar & Lois at El Rio Grande.
Walk to Exit Escape Room NYC.
Beat the Sugar Rush room!
Walk to Times Square.
Europan Cafe for crepes.
Walk back to Arlo Midtown.
Tyler and I successfully solved the Sugar Rush room at Exit Escape Room NYC! We had 3m 3s time remaining on the clock. Doing puzzle rooms with just two people isn't easy but we got it!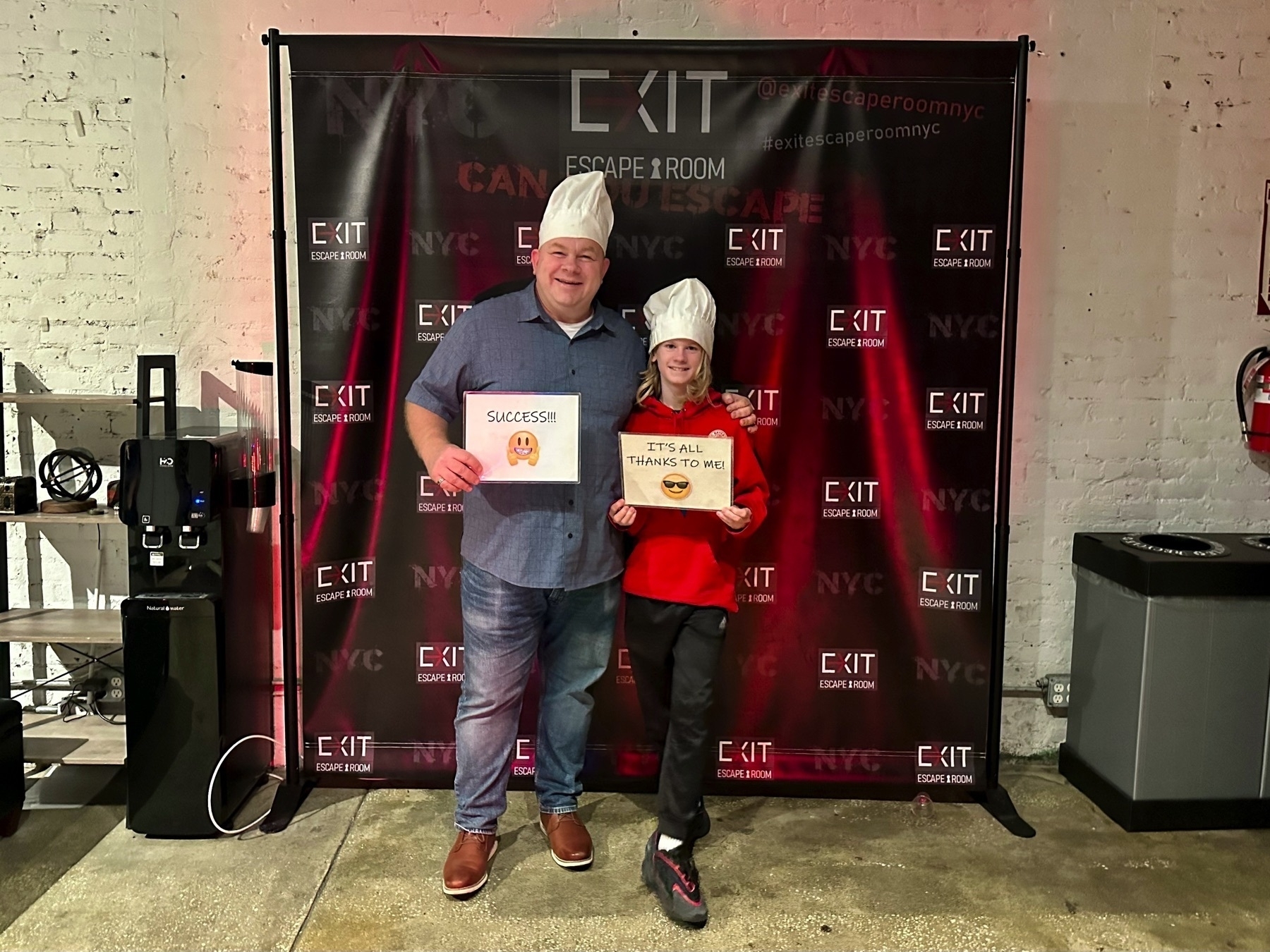 Nintendo NY
One of our must stop places for Tyler and I in New York was Nintendo New York! We got here on Sunday right at 11a when they opened. The store is filled with cool Nintendo history, characters, games, and of course plenty of gear to buy. We shopped and roamed around for 90 minutes taking it all in, including selfies with Link and Bowser.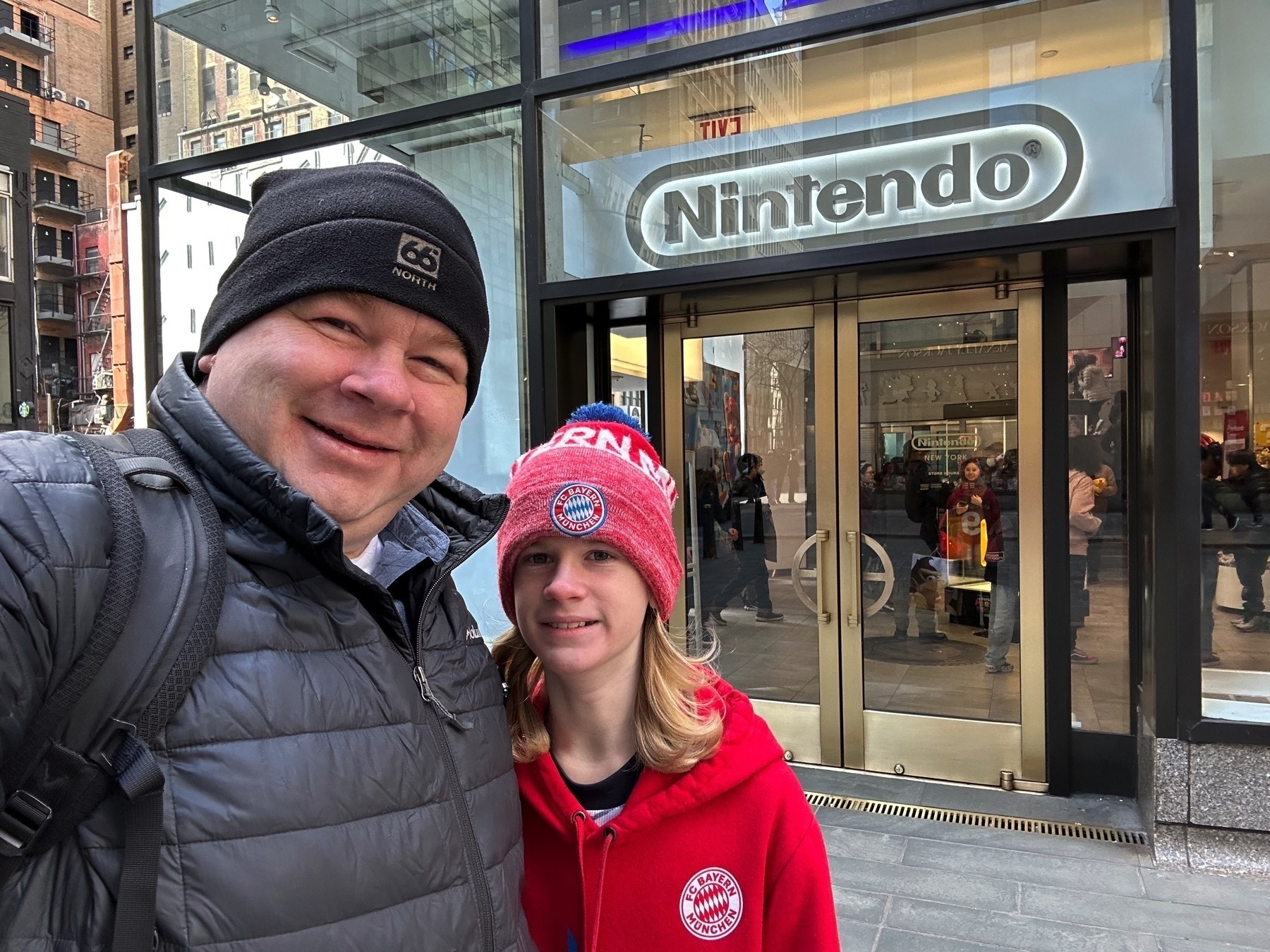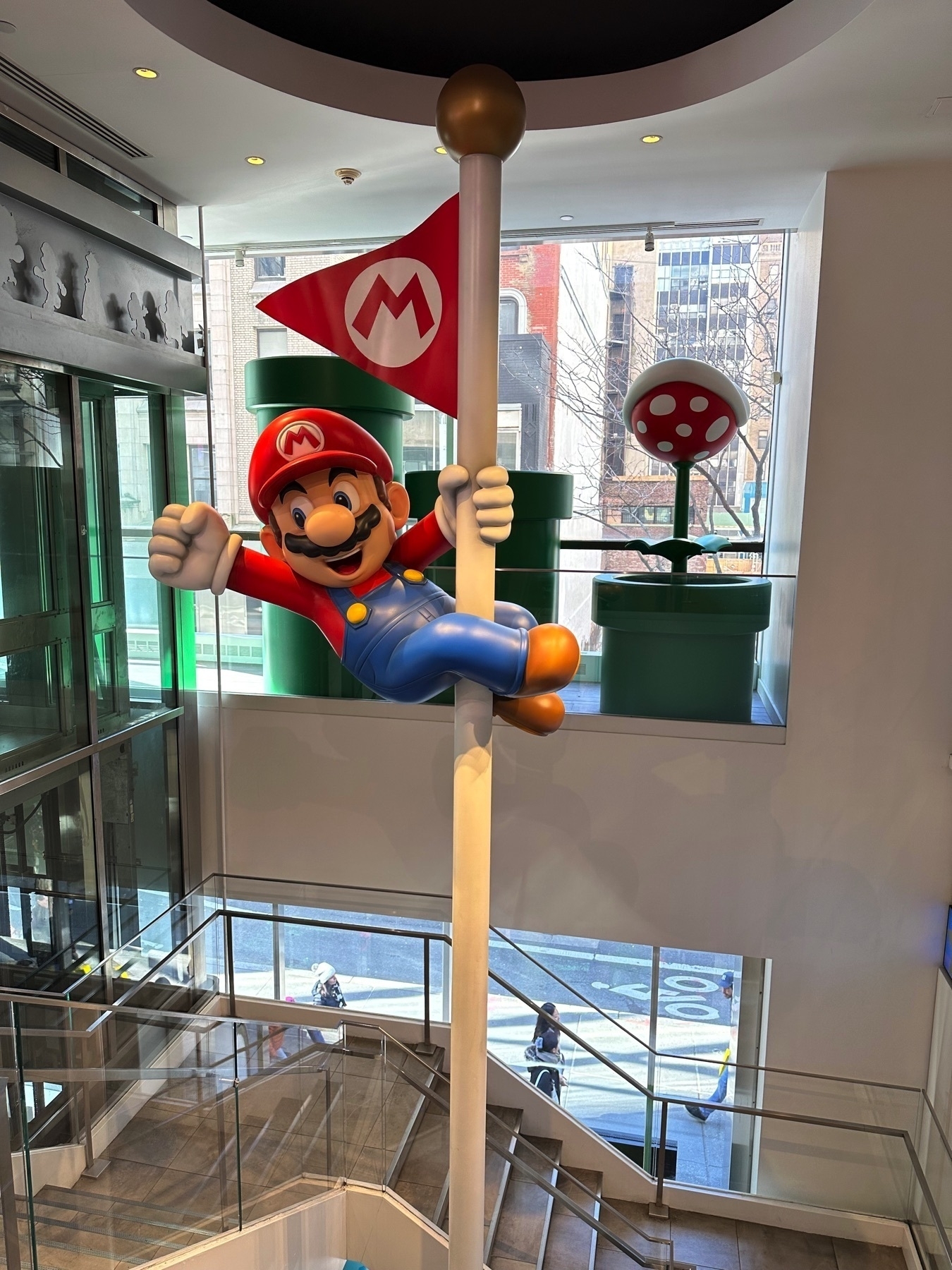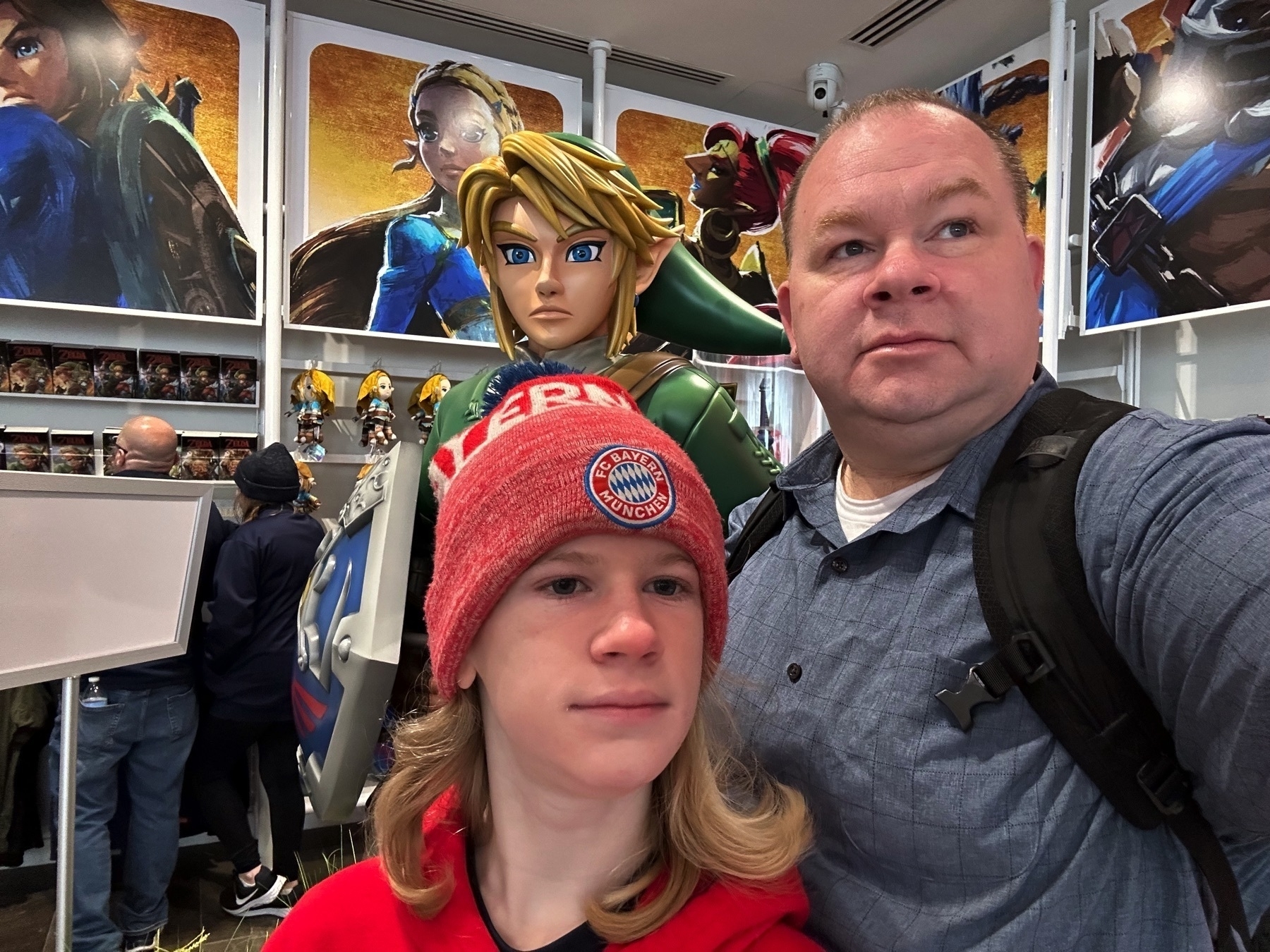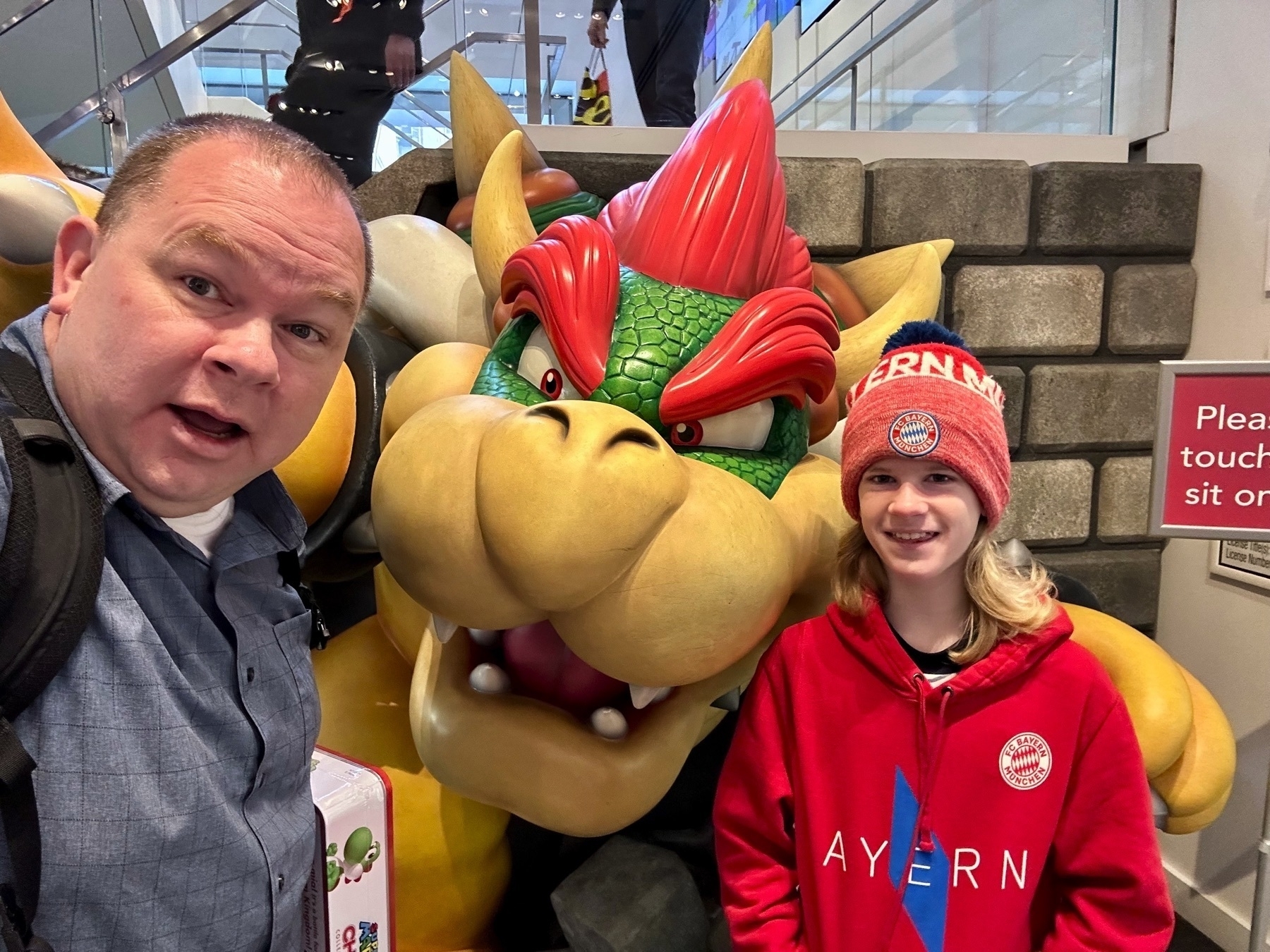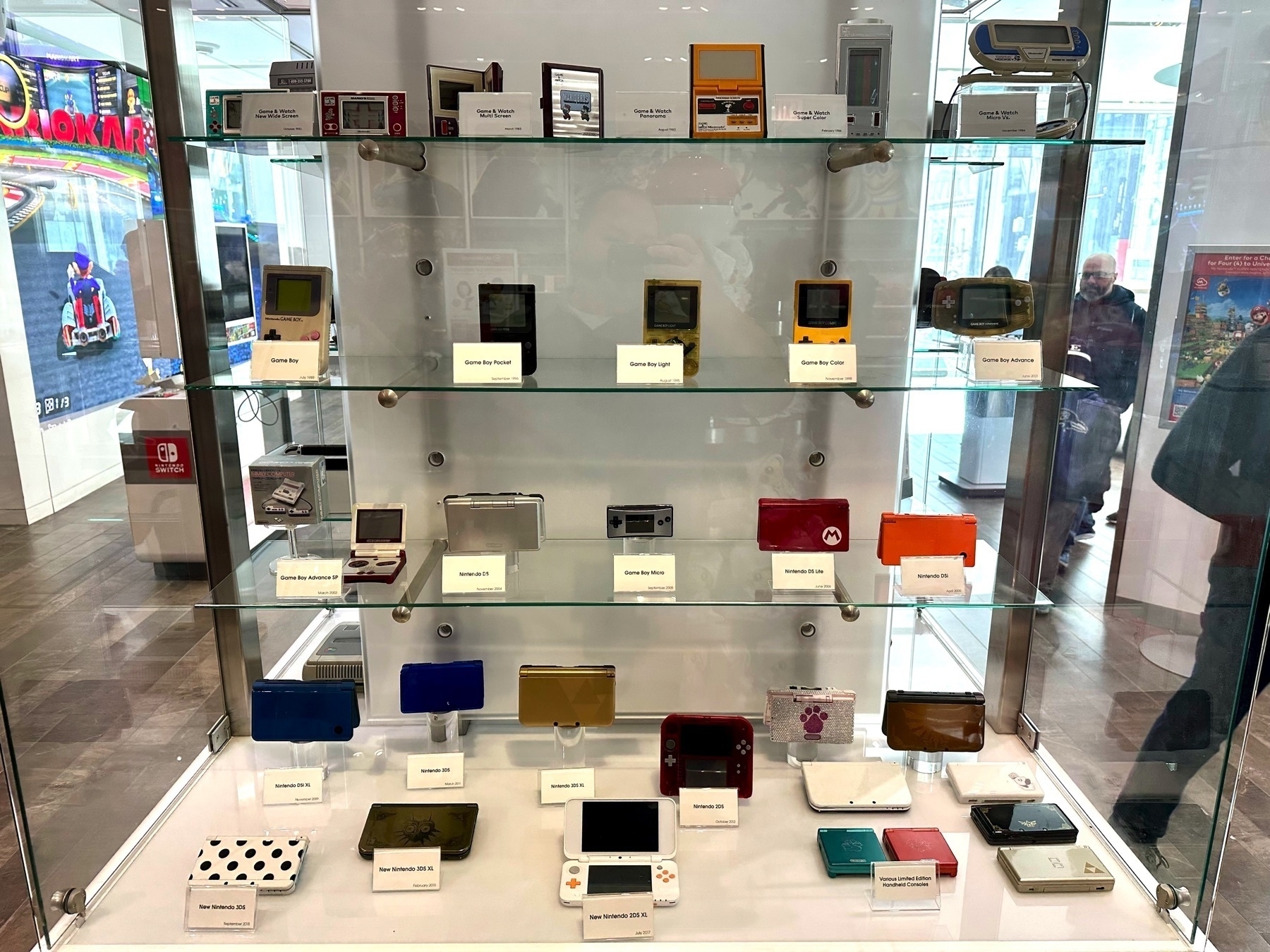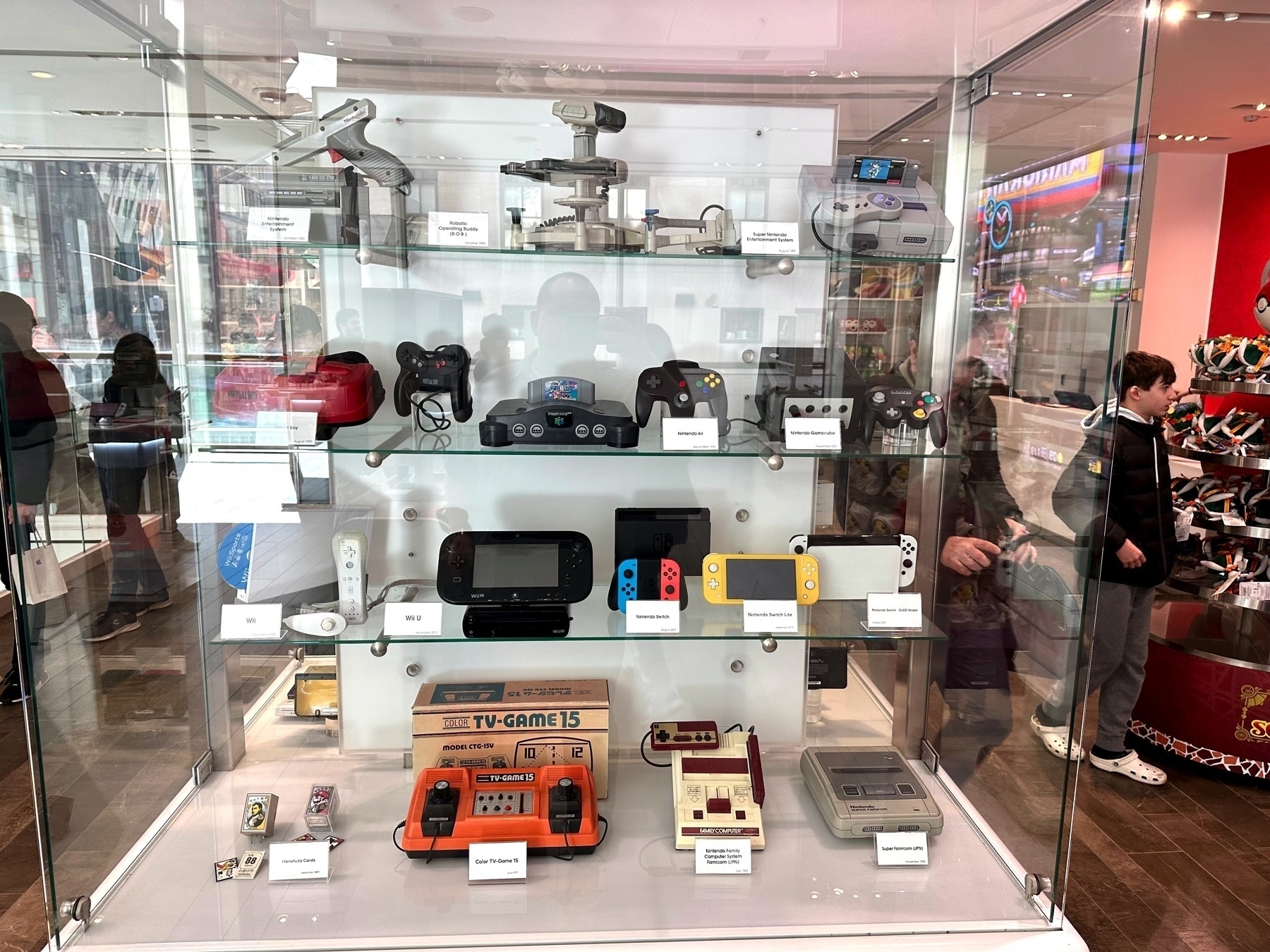 New York 2023 - Day 1
19,922 steps. 10.01 miles.
Bagels at Liberty Bagel.
Taxi to Battery Park.
Ferry to Liberty Island.
Visit Statue of Liberty and Pedastal.
Ferry to Ellis island.
Ellis Island to look up Josef Gins on manifest.
Fairy to Manhattan.
Nutella crêpe from truck in Battery Park.
Snack at Siena Bakehouse.
9/11 Memorial & Museum.
Coffee and Hot Cocoa at Blue Bottle.
Take 1 Train Northbound to 42nd-Times Square.
Dinner at Shake Shack.
Pit stop at Arlo Hotel.
Harry Potter and the Cursed Child.
Tyler and I visited the 9/11 Memorial and Museum. It is strange to experience things that are so vivid in my mind but are things that happened before Tyler was born. This is all history to him. Everything is so well done here. I strongly recommend experiencing it.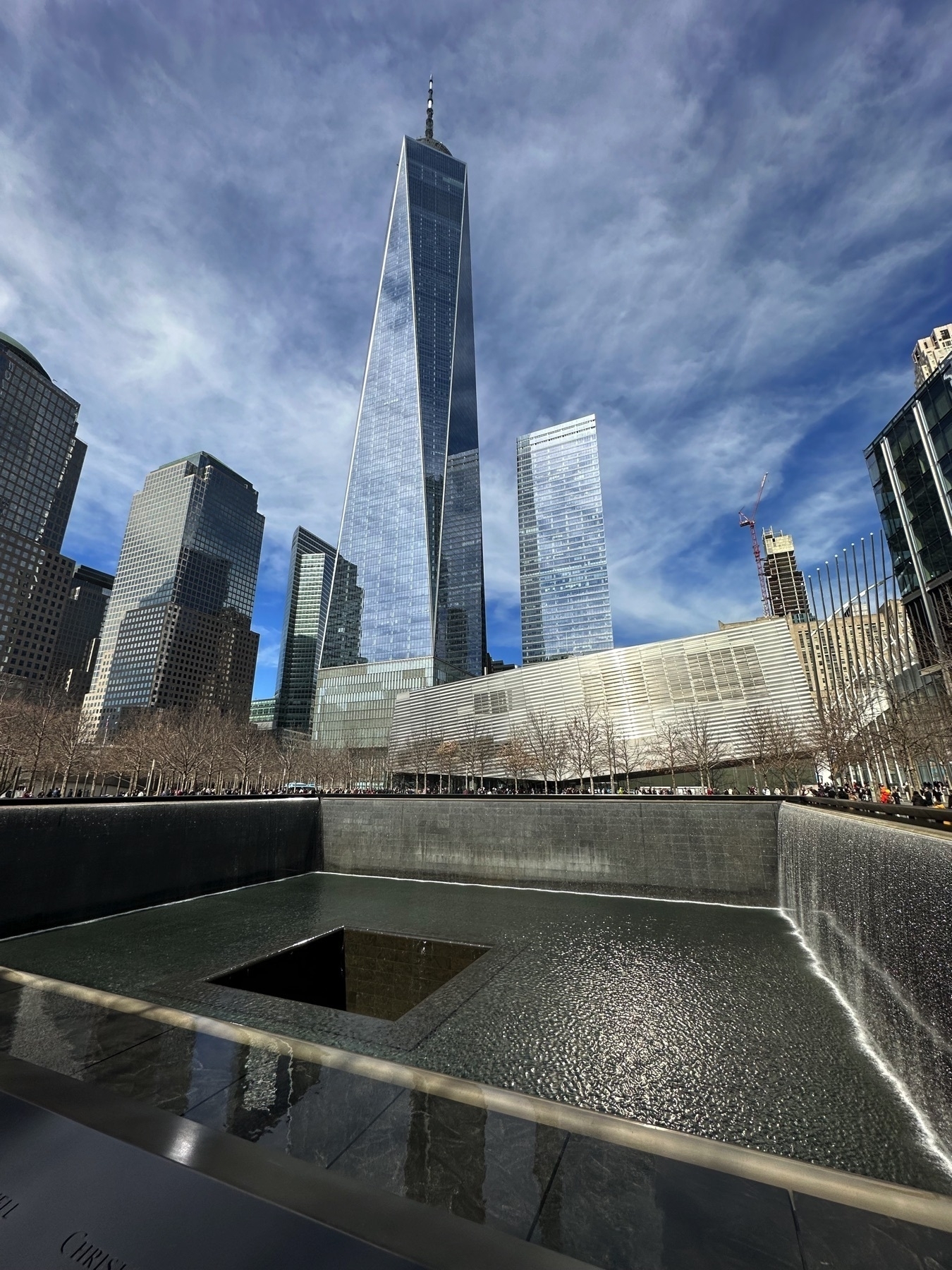 I would not do well on this elevator. 💀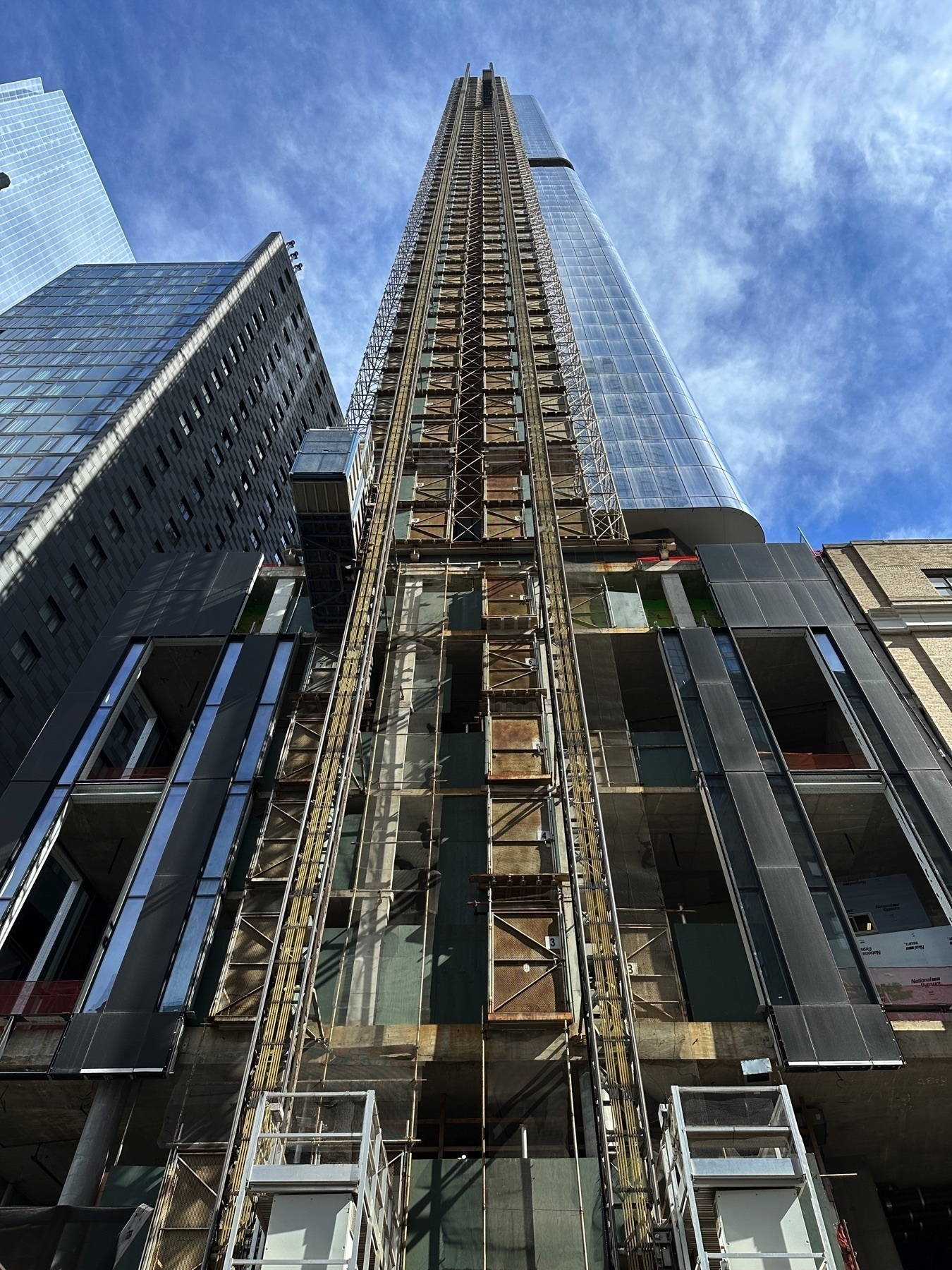 In the crowd boarding the ferry from Ellis Island to Manhattan with the Statue of Liberty in the background.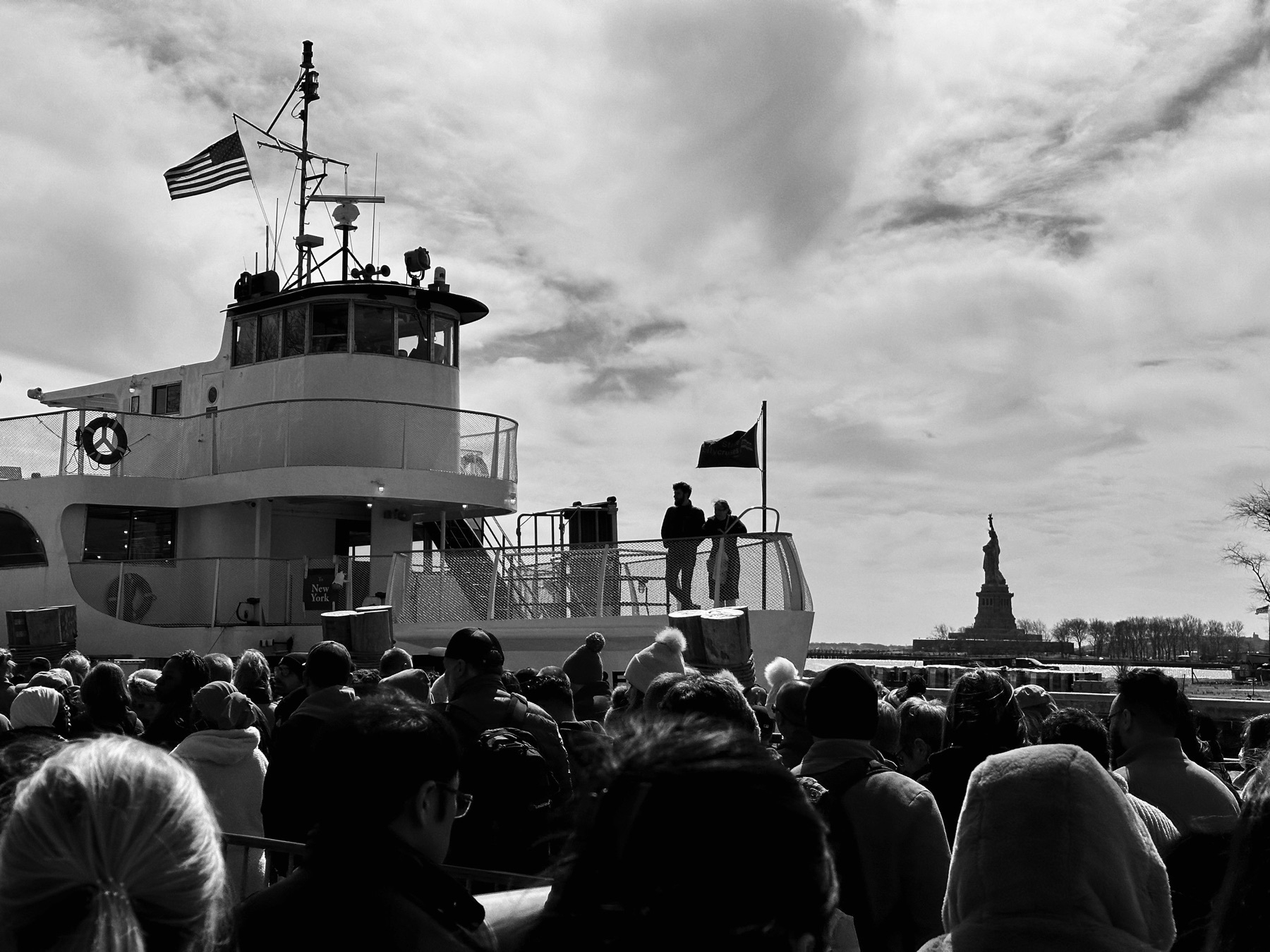 Lady Liberty.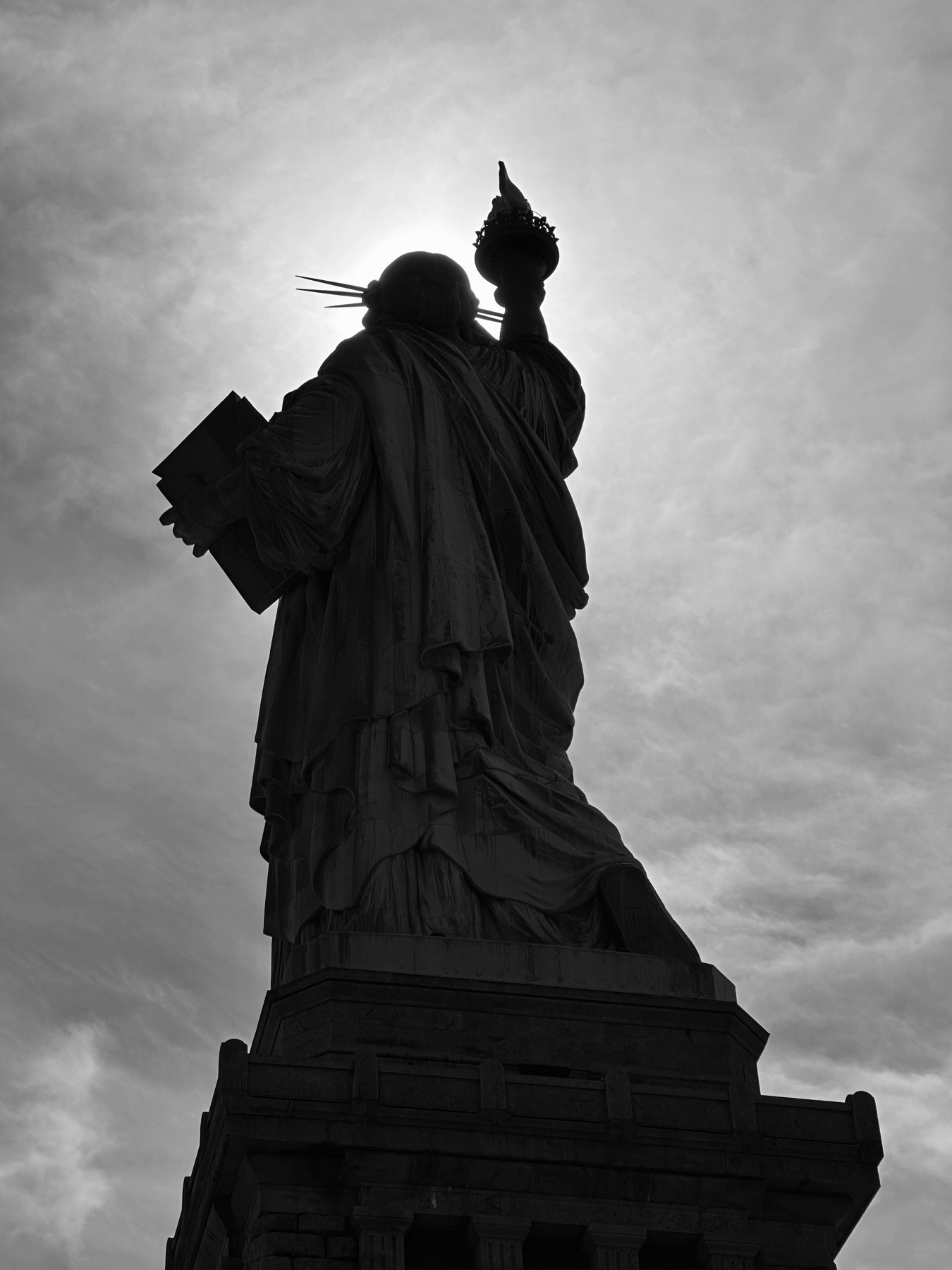 Tyler and I visiting with Lady Liberty!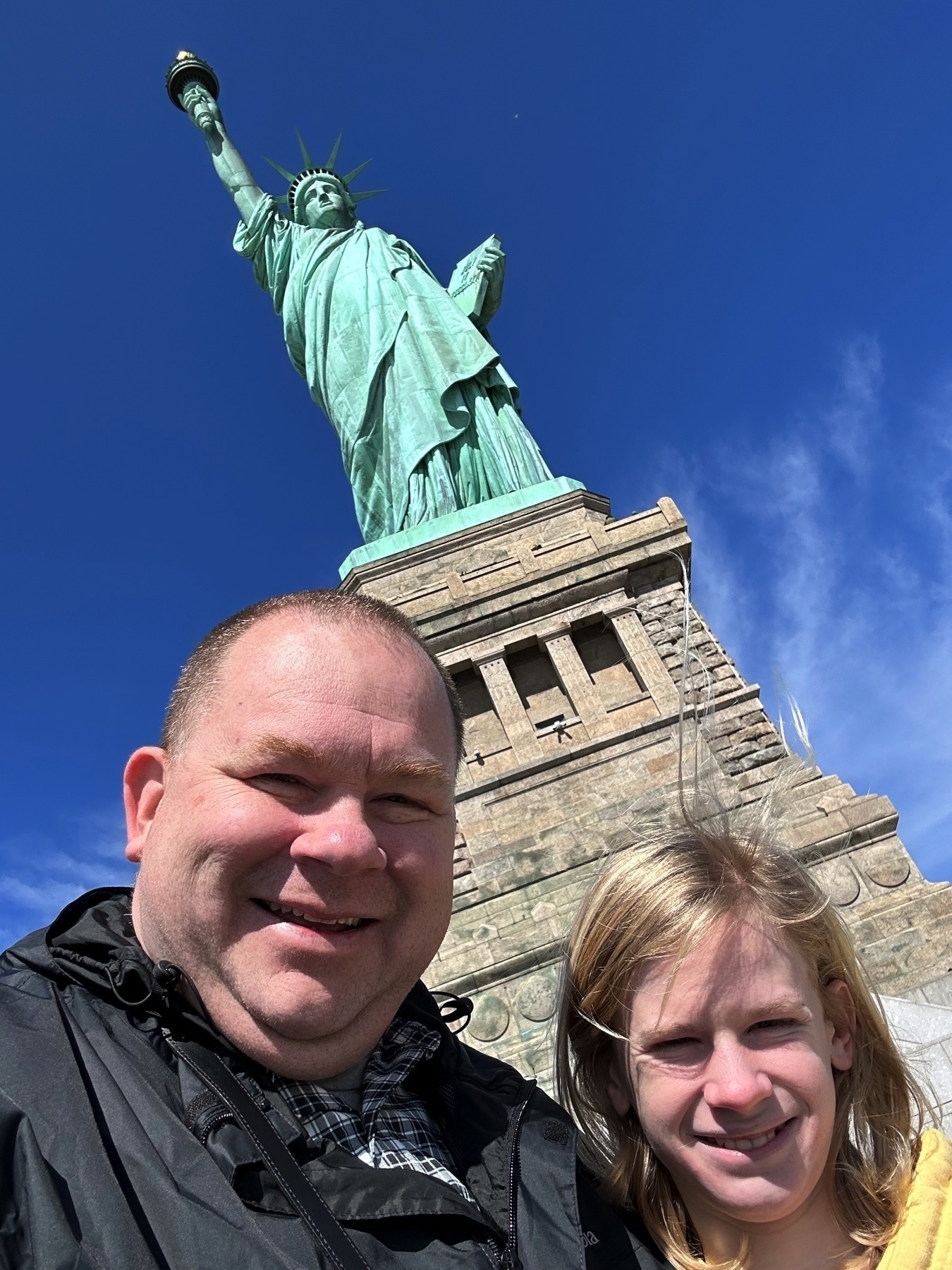 You must have a New York bagel! So much cream cheese. Cinnamon & Raising with plain for me. Liberty bagel with Oreo cream cheese for Tyler from Liberty Bagel in Midtown.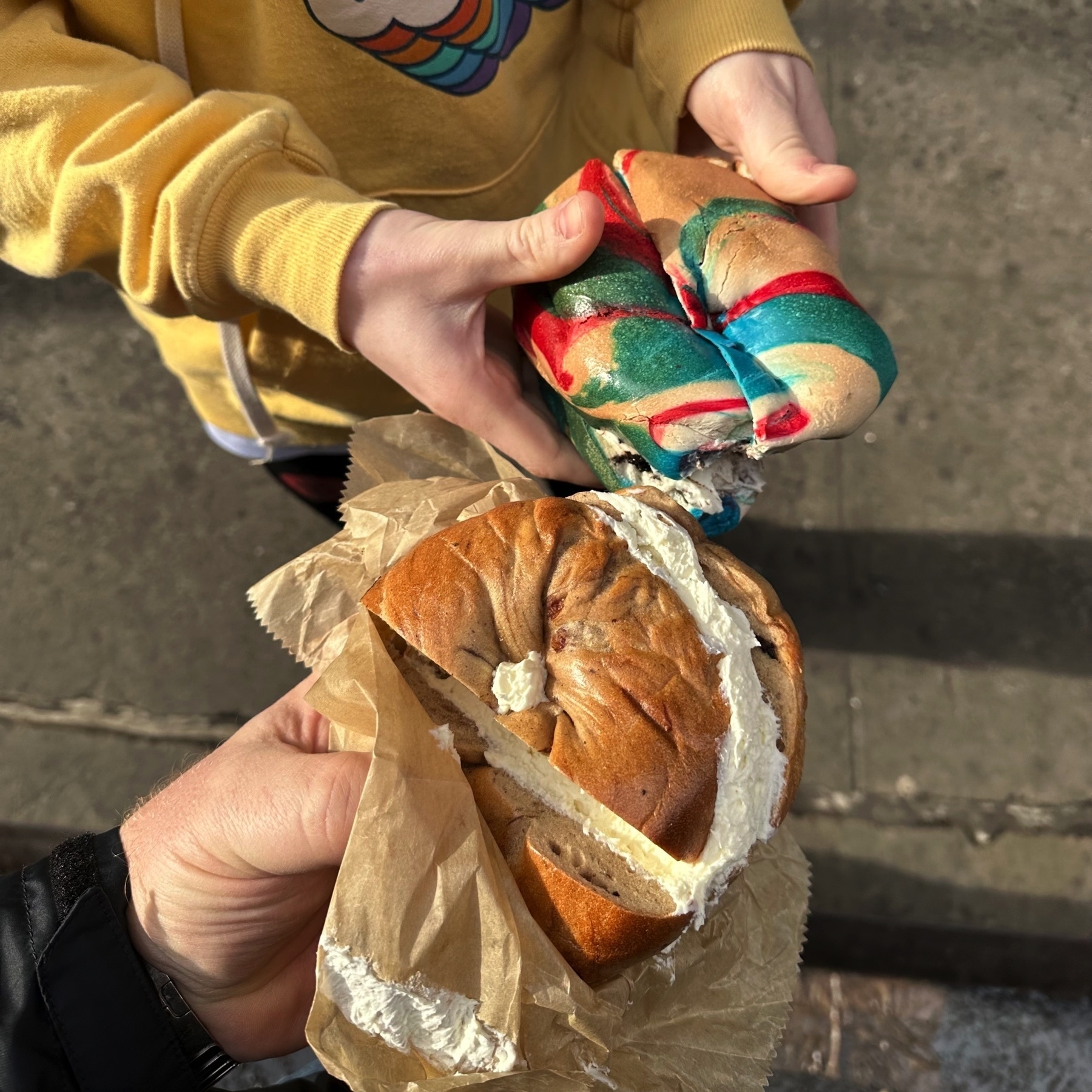 Tyler and I commemorated our New York 2023 trip with a special and extremely exclusive POAP! Only two issued. 😊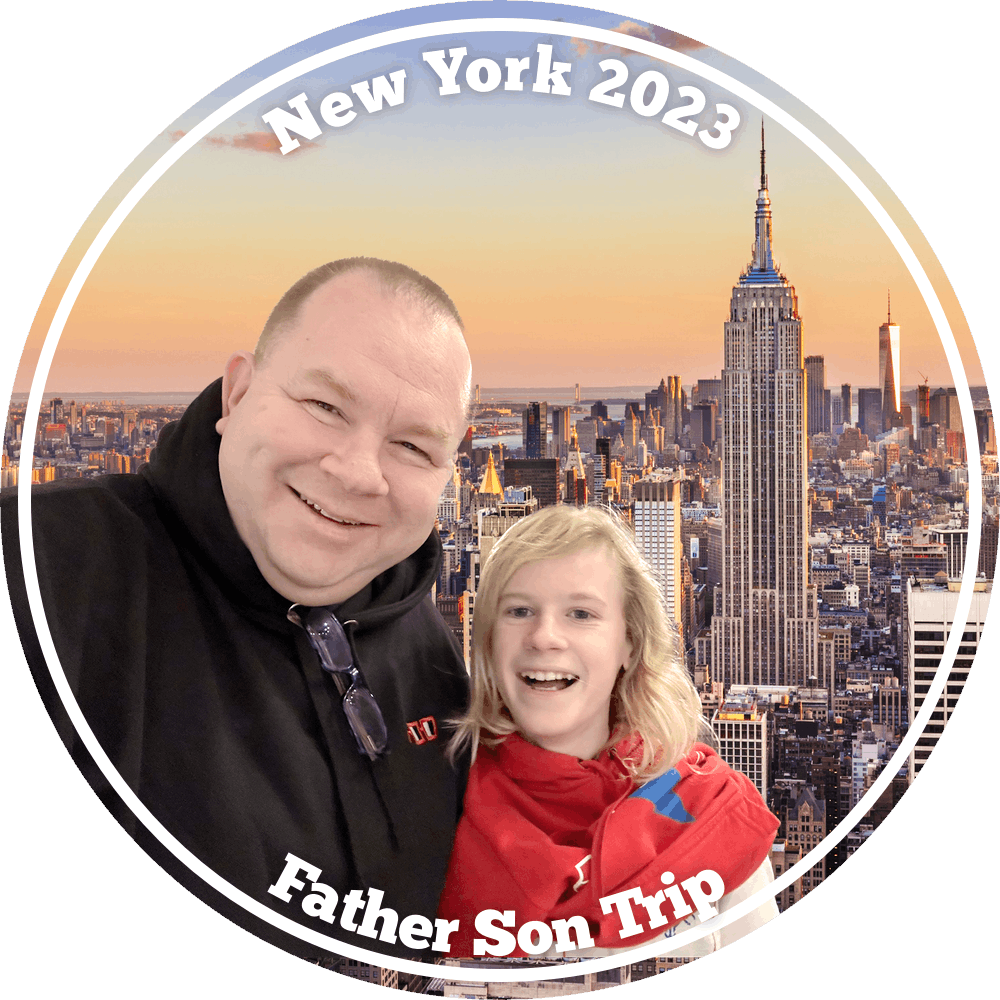 ---
Briefly
Impressively large round raised by Gravie. → Minneapolis-based Gravie Lands $179M Raise | Twin Cities Business
Mozilla getting into the AI fervor. → Introducing Mozilla.ai: Investing in trustworthy AI
Being a Premier League ref would be incredibly hard. Maybe we should have AI do it? 🤣 → The impossible job: inside the world of Premier League referees | The Guardian
Badges to add to your creations to indicate it was made by a human. 🤔 → Not By AI Badges — A Badge for Your AI-free Content
I remember using one of the NeXTStep "slabs" in the Computer Science building at the U of MN. They were such beautiful machines, and the NeXTStep interface was incredible even in its grayscale glory. If you are using an Apple device, you still have NeXT software running on it. → Previous - A NeXT Computer Emulator
I'm still bullish on the tech behind NFTs, and frankly the idea of making an NFT out of your Instagram post is just weird. And it's Instagram, so it's gross to begin with. All good here. → Meta gives up on NFTs for Facebook and Instagram - The Verge
---
Fortune
Here is your fortune…
Today is the last day of your life so far.
Thank you for subscribing to the Weekly Thing!
---
Recent Issues
---
About
I once created a wiki to track thousands of global wikis and store the number of users, pages, edit and files over time. It records the extensions used and is the most comprehensive data system of the wiki ecosystem. The project, called WikiApiary, is still being run by people in the MediaWiki team.
---
This work by Jamie Thingelstad is licensed under a Creative Commons Attribution-ShareAlike 4.0 International License.
The views and opinions expressed here are mine and do not necessarily reflect the official policy or position of any entity that I am associated with. The content provided is not intended to malign anyone or anything.
The content published here is placed at my discretion. There is no advertising or promotional content.
No attempt is made to provide attribution to sources for the content here as I would routinely get it wrong or forget.
Your privacy matters, and attempts have been made to remove all analytics, tracking, affiliate, remarketing, and other codes as well as any other means of tracking your behavior from this content.